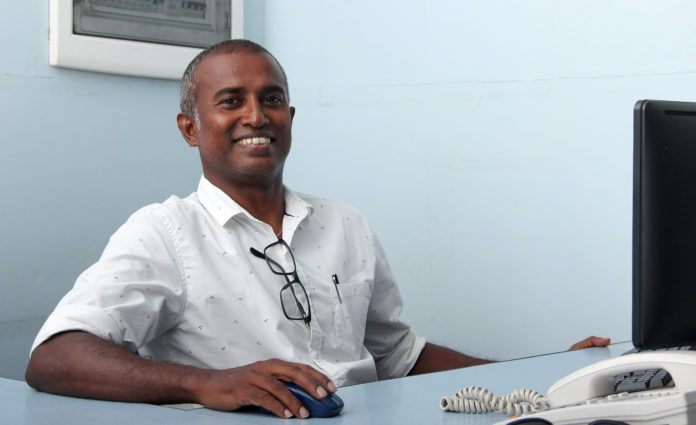 Mr. Fazlulla Ibrahim is the Managing Director of ASK Holdings Pvt Ltd, a leading provider of hardware and sanitary ware solutions in Maldives and a successful family run business highly reputed in the market.
He joined the company in 2009 and today he is leading the company and managing a team of young dedicated professionals under him.
How did you get started with your career?
It was my Grandfather who persuaded me to come and work for him. In fact, he had been quite persistent in trying to convince me for the previous 10 years.  I was working at STO at the time and left STO to join, ASK Holdings and started managing the company and the shop, Albion Store in September 2009.
In January 2011, I was nominated as the second Managing Director of the company by the board of ASK Holdings. I was terrified and excited at the same time.
What would you consider as successes?
Success is having everything you need, enjoying and as well as juggling it all together; A wonderful family life, Work that you love, friends you want to be with and time for myself is everything. My wife; once helped me with the phrase "living the dream". Now that's success. There may not be an even balance between all these but each of these things together make you the complete person.
What are the biggest challenges you have faced?
The Biggest challenges for me is time, discipline and unlearning. The time to do everything that I want. Also, my struggle for not wanting to be a burden on anyone and getting all that I want in that short period of time is a big challenge. Without the proper discipline and structure of daily life, it will not be possible for me to have it all. Unlearning old habits is important, and implementing new habits and systems are equally big challenges. Finally, accepting defeat and dead ends and starting over with a new idea is as well.
What do you do differently?
When making important decisions, addressing requests, and making commitments, I take a moment to think things through and get a different perspective.  I have also come to realize that by being humble it is much easier to learn and appreciate new lessons and new things.
What is your advice for the young MD's and what are your hopes for the future?
By having a company of 40 "star-fs", I am learning as much as them every single day. I have to acknowledge that the struggles of others are different compared to my expectations, and how to work with their best version. In my work sometimes you may not be the most important person every day instead today it could be someone else's today.
My advice to all the hot MDs out there would be to never stop learning and adapting!