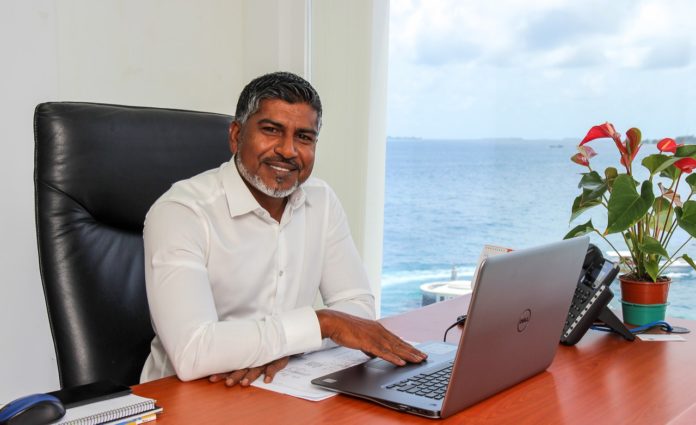 Corporate Maldives recently met up with the Managing Director of Sun Construction and Engineering, Mr. Hussain Salim. Under his guidance, SCE has successfully completed a number of notable projects. 
Could you please give our readers a brief background history about yourself and how you entered in to the construction venture?
I completed my O'levels from EPS in 1994. Soon after completion, I joined the military as was the norm back then. I served for 2-3 years at NSS as an automobile mechanic and marine engineer. Engineering was one subject that I thoroughly enjoyed. I used to dismantle and assemble radios as well. I was offered the opportunity to pursue my higher studies in the U.S, but my heart was elsewhere. I have always had a calling for the ocean. Whilst undergoing my training at NSS, I pursued a diving course on the side. My passion for diving pushed me to do an instructor course in diving as well, and I'm very grateful and honored to be the 9th diving instructor in the Maldives. In addition to being a diving instructor, I was also a swimming instructor. I voluntarily took swimming classes to a lot of students. I considered it as a way of sharing my passion for the ocean with the community. Later on,  I was offered a diving job at Sun Diving in Bolifushi, owned by our chairman, Mr. Siyam.
By all means, the drastic leap from diving to construction was not the easiest. However, upon being offered to work in construction, I grasped this opportunity and considered it one where I could prove my leadership skills. It never brought me down that I had to set aside my passion; I always believed that whichever decision they come to, it is always for the betterment of the company. Although I no longer work as a diving instructor, I am still involved in the decision-making process regarding the diving school equipment. Needless to say, I still dive for leisure, of course.
It was during the year 1997 when I first got the opportunity to take my first steps into the construction industry. Our chairman, Mr Siyam acquired Meedhuffushi Island, where he opened Vilu Reef, which was later refurbished and relaunched under the Sun Aqua brand. I was appointed as a site supervisor. It was during the development of Vilu Reef when Mr Siyam decided to pursue in the construction industry. Being the visionary leader, Mr Siyam realized the convenience and benefits of having a construction company within the Sun Siyam umbrella. After getting into the construction industry, we were able to bring the changes that we had envisioned, and complete the projects within the set budget frame. We managed to complete the project within a record time of 8 months. I personally consider this a success, especially taking into consideration that this was my first project on a supervising level. 
Shortly after the opening of Vilu Reef, I was handed with the responsibility of project manager on our Olhuveli project in 2000. In addition to redevelopment, we were also assigned with the management of the resort. I was the Deputy General Manager then. I was managing both roles, in construction as well as management.
What do you consider to be your successes?
We have a very dedicated and hardworking team here at Sun Construction. All the projects we managed to deliver, I owe it all to my team. They are the foundation of this company, and I personally consider them to be my biggest success. We all have a clear goal, which we work towards achieving with a set plan. Each and every member of my team contributes a fair share of the workload, with an understanding of their responsibilities. Although each of us brings something different to the table, this diversity helps us to recognize our strengths and skills, which is why I believe we have managed to overcome the obstacles in our path so far.
What are some of the challenges you have faced in your line of work?
We do have challenges, every company does. In fact, we managed to tackle one of the biggest challenges we've faced; JA Manafaru. We started construction works on JA Manafaru in July 2007. It was truly a logistics nightmare at the time. We had to take the equipment and materials from Male' to the island, and the swell near Galandhoo made traveling inbetween very difficult for us. The sand formation in the island also turned out to be very challenging. Many obstacles later, JA Manafaru is now one of the most beautiful properties in the Maldives. The sweat, determination and hard work we put in to the project is why I consider it to be one of the biggest achievements in my construction career.
What do you do differently at Sun Construction & Engineering in comparison to other companies?
I cannot speak for other companies but I ensure that I have an alternative option at all times to keep the work going. In spite of the challenges, be what they may, I try to find a solution for every one of them so that we can continue with our work without letting the challenge hinder our progress. Incase my initial solution to the problem does not work, I make sure that I have other solutions to tackle the issue at hand, instead of relying on one.
I also try to share my knowledge with the employees here. As someone who has had the opportunity to learn and sharpen my skills, I believe that it is my duty to pass on that pool of knowledge to my team. For that reason, I always keep my door open. Everyone here has an equal chance to grow. Be it labourers or the executive team. I have personally witnessed how far some of them have come, and it gives me incredible joy to be able to play a part in it.
Additionally, I like to be hands-on with all of our projects. My team does not need to come to me regarding the project; I go to them. I immerse myself into it as much as they do, and work together with them to complete it. I do not like sitting back and letting my team members do all the work. I am as much part of the team to them, as they are to me.
What is your advice to young entrepreneurs who wish to seek a career in this industry?
Regardless of the position you manage to reach, always make sure that you remember where you came from and your background. Throughout your career, if you keep focusing on your goal, you will achieve many accomplishments, and you will climb up the ladder with each one of them. It is important to remember at those times that no matter how high up the ladder you climb, your feet will eventually touch the ground. Always ensure that your roots are intact for they are the reason for the goals you set to achieve.