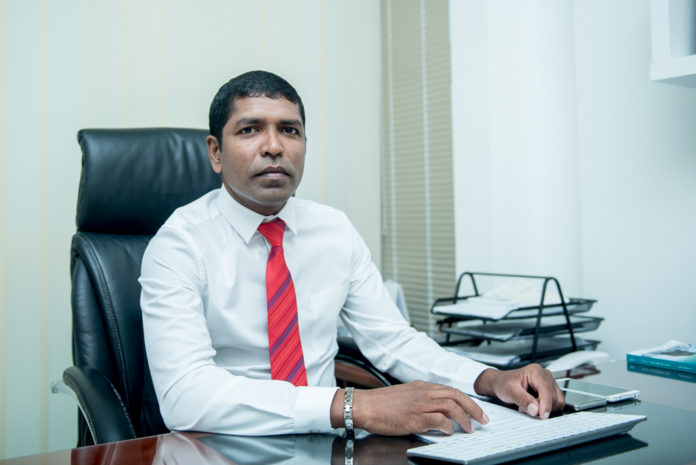 Mr Mohamed Shihab is the Managing Director of Fuel Express Maldives Pvt.Ltd. He started off his career at Maldives Ports Limited (MPL).
Awarded the Best Bunkering and Fuel Supplier of the Year at the Boating Award 2016 by Liveaboard Association, Shihab leads FEM with passion and determination.
How did you get started?
Upon completing schooling in 1992, I joined Maldives Ports Limited (MPL) which was my first job. After developing an amusement for the large vessels that came to port in Male', in 1994 I left Maldives to pursue a career as a seaman.  Though I started as a cadet, the passion and determination to succeed among an internationally diverse group drove me to the ranks of the engineering division within a span of 6 years. In 2006, while serving as a Second Engineer, I retired from a lifestyle of travelling the world and decided to remain in Maldives. As a result, I was able to focus on developing the businesses, in which I had invested through the savings made over the years. My initial investments were a secondhand fishing vessel, followed by a transport vessel (2008) and a brand new fishing vessel (2010). By the Grace of Almighty Allah, in 2011 an opportunity arose for me to join with the partners of Fuel Express Maldives (FEM), which helped me venture out into a new arena of business. Despite the humble beginnings of starting a fuel bunkering service with an initial funding capital of under MVR 1 million, it is largely due to our commitment to customers and the positive responses received that has enabled us to reach the position we have achieved today.
What would you consider as successes?
I firmly believe that success is the result of all the actions that we undertake to achieve a goal. Surely it is an unending mission with no boundaries or limits. The possibilities of securing your goal should be paused and reviewed in all instances. For FEM having achieved the various successes thus far must be attributed to our customers, whom we serve with gratitude, dedication and loyalty. A culture of hard work and care for our customers coupled with the honesty and enthusiasm of our staff translate our efforts into an environment of a strong customer relationship, a service that delights our clients.  Our company Chairman Mr. Amjad Ismail deserves special honour for having entrusted his faith in me with regard to structuring and operating the company. While we strive harder in shaping and improving all aspects of FEM with an urge to provide greater customer service, we rely on our customers for our targets in taking FEM to achieve greater heights.
Challenges
Numerous challenges exist in our operating environment. Much could be done if the industry participants were to discuss and agree on common causes of concern such as addressing regulatory, safety and industry standards for operating procedures. If sufficient regulations were in place to ensure these best practices and standards, the industry could become much stable. Sadly, it is to be noted that the pricing volatility of operating in the industry, the level of monitoring and control measures taken by some larger entities which exist often threatens the business of small and medium entities. To resolve this, adoption of standards within the industry would ensure the development and safety of everyone.
What do you do differently?
We approach our business as a service rather than mere suppliers of a generic product. Our service convenience, our service dedication and our service commitment are what makes us unique. Within the organization, we entrust great faith in our staff and encourage them with their studies and offer support during their difficult times. It is a matter of pride to let you know that our first employee still serves us ( as an Operations Manager today) and our first customer still remains as a loyal and very satisfied customer(and which the trend had largely repeated in like by everyone else that followed).
What is your advice for the young MD's and what are your hopes for the future?
My personal advice to the young MD's would be to stay determined towards a goal, work hard, remain loyal to those who helped and always remain responsible for the service you provide, rather than focusing on accumulating great profitable companies. With dedication and hard work, success often follows through and I hope Almighty Allah would have his blessings on me to remain focused towards serving our clients and taking FEM to even greater heights. Hopefully, very soon we would expand our service capacity to introduce 24 Hours bunkering service and it is my every wish that we grow further in our business pursuits and gain to identify great opportunities to diversify our investments.
Disclaimer: The views expressed are the individuals own views and do not necessarily represent the views of Corporate Maldives.