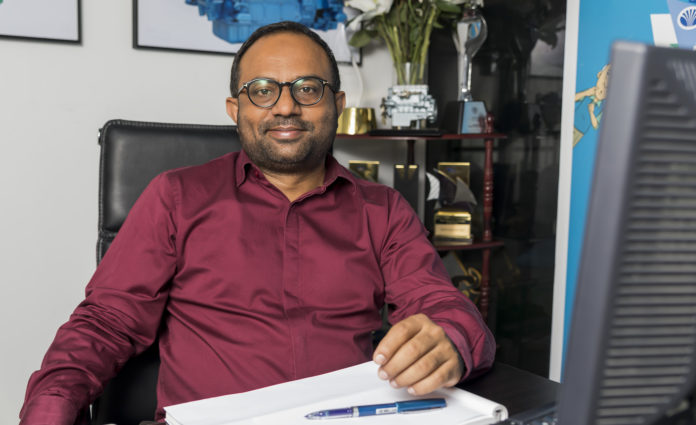 Mr Mohamed  Zubair is the Deputy Managing Director of VAMCO, Maldives. He is a business management undergraduate with a passion for reading about the current affairs around the globe.
15 years of passion for his work has led both VAMCO and him on the path of success.
How did you get started?
VAMCO was started by my father, Late Adam Moosa, as a consumer goods business. We sold mostly food items at the start. Around 15 years ago, we diverted our business from consumer goods to marine equipment. Initially, we started on a small scale with only Doosan engine.
There were around six types of engines in the market around that time and it was plenty for a small market such as Maldives. On top of that, Maldivians seemed reluctant to try new brands.
We promoted our product by meeting with people on one to one basis.  Soon, word of mouth helped carry word of the benefits of our brand and we were able to penetrate the market and gain confidence with the consumers. Our brand soon became very popular.
As of today, our engines are the second most sold in the market and more than 400 engines are out there on vessels such as landing crafts, safari, fishing boats and cargo boats.
We have an aftersales service centre in Hulhumale'. Good aftersales services are essential for such equipment and we provide the service to our customers countrywide. Our equipment and spare parts servicing are highly appreciated by customers.
What would you consider as successes?
Our company started with selling just one brand of engine and today we have expanded our services to other products and spare parts. The best thing is that we are able to provide our customers with product-related solutions under one roof.
Quality, durability, engine efficiency and cost of ownership is what attracts our customers. We are the sole distributor of Doosan and in 2016, our team sold the highest number of Doosan engines in the South Asian region.
Winning three consecutive years as the "Most preferred marine engine brand of the year" and winning Boat equipment supplier of the year in the boating awards.
Challenges
Availability of counterfeit products in the market is a big challenge. These products can be very cheap but are not durable. Competing with such products is entirely different compared to other genuine brands.
Another challenge is the difficulty of bringing youth on board the servicing area. Lack of educated professionals in mechanics and engineering field plus the unwillingness of novices to do fieldwork. In other words, we lack a good pool of local technicians.
For those youth who are interested, there are opportunities in the technical fields and it pays more than the desk jobs. However, we still find difficulties in recruiting individuals who are dedicated.
What do you do differently?
We focus on catering to our customers' needs as much as possible. We train our staff to think from customer point of view and build a close relationship with them. Our products cannot be marketed in a formal setting.
Another thing we do differently is we allow our staff to be very flexible. Instead of imposing rules such as strict dress code and things, we let them work in comfort and reach the ultimate goal of providing best customer service.
We provide mobile services reaching to the customers and provide technology to provide fast and efficient service.
What is your advice for the young MD's and what are your hopes for the future?
The CEOs and MDs need to know the company model. They need to figure out how to sell and how to market their respective products to consumers. They have to be willing to adapt to changes and demands of the market.
Treat your staff well. Retaining the staff will help build a stronger connection with your customers and this will benefit your business.
We are a business and, like all businesses, we are working towards expanding the scope of our business. In future also we will be applying strategies to provide our customers with the best service.
Disclaimer: The views expressed are the individuals own views and do not necessarily represent the views of Corporate Maldives.