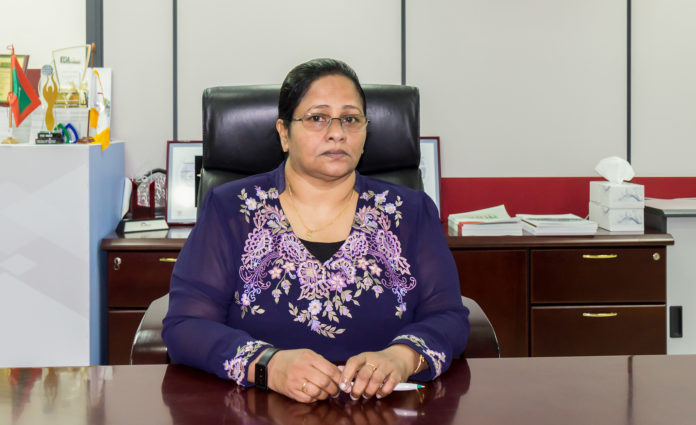 by Ruba Ali
Ms. Raheema Saleem, Acting Managing Director of Housing Development Finance Corporation is one of the most respected names in the financial sector of Maldives. With over 16 years of experience at numerous senior positions at Ministry of Finance as well as serving on the Board of various prestigious companies, she is recognized for building HDFC from the ground up. Corporate Maldives sat down with her to talk about her humble beginnings, hurdles, achievements and plans for the future.
How did you get started in the Financial Industry?
My first job was as an English Secretary at the Ministry of Finance and Treasury, right after completing my A' Levels. My job required me to report to the Minister regarding foreign borrowings by the Government.  During my time there, I took part in several short-term training courses and even an internship at the Asian Development Bank (ADB).
I completed a double Degree in Accounting and Marketing from, Western Australia. On my return, I was promoted to the Head of Treasury Section. Within three years, I was offered the post of the Managing Director of HDFC, an organization incepted by a Presidential Decree in January 2004. HDFC back then was a state-owned enterprise (SOE).
What has your experience with HDFC been like?
HDFC was actually an idea of the Deputy Governor of Maldives Monetary Authority Mr. Ibrahim Naeem and the Finance Minister, Mr. Mohamed Jaleel. At that time, there were several plots of land having less than 600sq feet and no institutions to finance them, and so the idea was to cater to these people who needed financing facilities to build their homes.
I would say that the experience has been a rollercoaster of sorts, good times and bad times both in turns, but the end result is something that I am very proud of. HDFC is one of its kind where we operate with highly skilled, specialized yet small team of staff. Staffs are highly trained because we adhere to a very high standard, especially after the privatization.
HDFC's privatization was completed in 2008, then I became the Advisor to the expatriate MD before I took a sabbatical leave to do my Master's program from Monash University, Australia.
What are some of the biggest challenges that you've faced during your career?
I would say it is the capital. When HDFC was first incepted, the capital allocated was just MVR 1 million. This fund was all we had to get an office space, select and train the staff. Over the past 13 years, we have managed to learn, build and grow. Today, our credit facility portfolio has reached over MVR 1.2 billion. I would consider this as the greatest hurdle that we had to overcome to become the success that we are now.
Another challenge that we seem to face is staff turnover. I think it might be that the culture is different now; I come from an 'old school' culture where taking leave or missing work for no reason is frowned upon. The mentality of the new generation is quite different. I'm not saying that all youngsters are the same but there is enough of a disparity in work ethics that it is easily noticeable.
What do you try to do differently to make your institution differ from the others?
One thing we try to do differently is that we always try to provide a closer and more personal relationship with our customers, whether their application is successful or not. Of course, it's impossible to please everyone but our credit team and I sit in during their interview and in the event that they have any grievances, we try to advise them how to move forward. If anyone wants to personally approach me, a time is granted within three working days (maximum) but most of the time it is earlier. So when our customers get to see us, the people at the top of the management, I believe it gives a human touch to what we do.
Our biggest strength is innovation. We are proud to say that our innovative product offerings have been one of our main contributions to the housing market. We pool family incomes to make it more affordable. We were the first to issue an Islamic Sukuk (Bond) and was listed on the Stock Market.
We maintain a very low percentage of non-performing loans.
We believe in equality here. Transparency is the key, and we abide by high compliance from our shareholders and investors, to maintain high standards. Our financials are audited and published regularly.  There is no litigation filed against HDFC by customers who failed to get a facility from the Company.  We personally counsel our customers and potential customers the best possible way to get a home loan/facility. This, I feel, makes us stand apart from other financial institutions.
What do you feel are your greatest achievements, both within HDFC and personally?
For me, personally, every success of HDFC is a special success for me, because this institution began with a very humble beginning in terms of funds and human resources. To have started with so little and to have come so far, and to have sustained the vision that we had from the very beginning is an achievement by itself.
Another personal accomplishment for me is to have been recognized and awarded by 'Women on Boards' NGO last year, along with some of the most influential and renowned women in the country.
What are your plans for the future?
Personally, I would like to enhance my knowledge in Islamic Finance, as I am part of the Management team which makes day to day decisions of this Company.