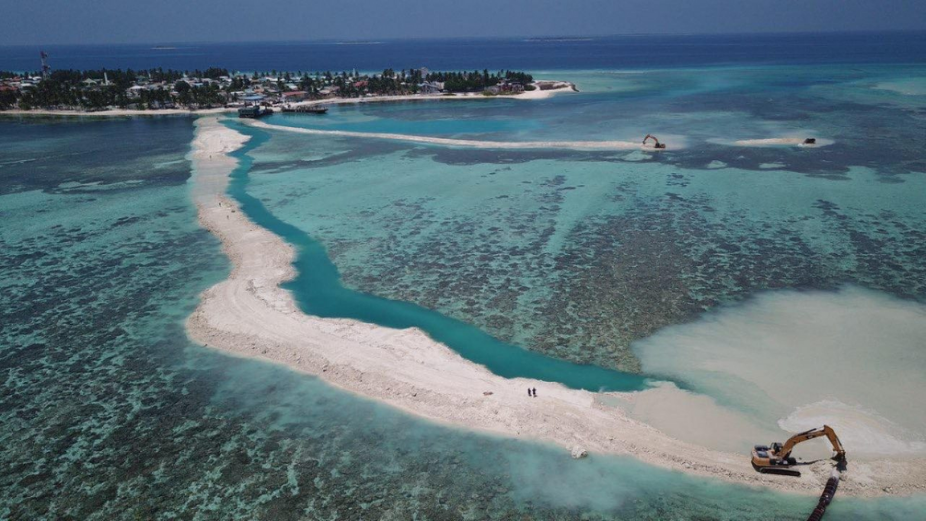 Maldives Transport & Contracting Company (MTCC) will be celebrating its 40th anniversary tomorrow, the 18th of December. This momentous occasion marks four decades of incredible milestones for MTCC, which is now one of the strongest business entities in the country with a diversified range of products and services.
MTCC was incorporated on 18 December 1980 as the first public company in the Maldives. Throughout its existence, MTCC has positioned itself as the leading marine and land transport provider and civil and marine constructor.
The Early Years
In its early years, MTCC commenced business activities with the rental of speedboats, tugs and barges. It eventually ventured into the vehicle rental business and building construction in 1986. A year later, it introduced Yanmar products to Maldives, and established two regional Yanmar Service Centers. Soon, construction of the MTCC Corporate Headquarters commenced, in 1988.
In 1994, MTCC signed a Castrol dealership agreement with Castrol Singapore and opened the first Yanmar sales showroom. The company officially launched Castrol Lubricants in the Maldives and introduced Castrol Automotive Products to the Maldivian market. The 90s also saw the company venturing into dredging, reclamation, sheet piling, and construction of small steel vessels.
The New Millennium
The beginning of the new millennium marked an exciting turning point for MTCC, which ventured into public ferry services with the commencement of Male' Villingili ferry services in 2001. This portfolio was extended in 2004 with the addition of Thilafushi ferry services, and in 2005 with Male' Hulhumale' ferry services. In 2006, MTCC inaugurated "Integrated Transport Networks" with the objective of linking the entire Maldives with a well-organized transport network. In 2009, MTCC commenced bus services in Hulhumale, and its ferry services portfolio was again extended with the addition of the North Central Province ferry service.
The 2000s also saw MTCC venturing into heavy cargo logistics with the acquisition of a 3500-ton barge with supporting tug. A concrete testing lab was established, as well as a new alongside berthing facility at Thilafushi MTCC site.
Furthermore, within that decade, MTCC introduced Suzuki Outboard Motor Engines to the Maldives market, and received Special Award at Suzuki Distributors Meetings for achieving sales targets for 2007.
The Last Decade
Over the last decade, MTCC has proven itself with a whirlwind of ventures, transport enhancements and construction projects. Early on, in 2010, the company launched 'Airport Express', a high-speed transport service between Male' and the airport. A year later, it launched 'Hulhumale' Express', and in 2012, added Gulhifalhu ferry services to its portfolio.
In 2013, MTCC ventured into electrification works with the Electrification Project of Kolhufushi, Meemu Atoll. It also introduced an automated fare collection system and 'Dhathuru Card' for Hulhumale' ferry services.
As part of bus service enhancement, Volvo City Bus was introduced in Hulhumale' n 2013, and bus services to Neighbourhood 2 in Hulhumale' commenced in 2014. A shuttle bus service between Ibrahim Nasir International Airport and Hulhumale' was introduced the following year. In 2015, MTCC linked the islands Thaa atoll and Laamu atoll, and in 2016, linked the islands in Zone 1 (Atolls Ha, Hdh, Sh), Zone 2 (Atolls N,R,B), Zone 3 (Atolls K, A.A, A.Dh, V), Zone 5(Atolls Th, L) and Zone 6 (Atolls Ga, Gdh) through an integrated transport network.
In 2017, multiple additional buses, speedboats and vessels were added to enhance transport services. A total of 5 dredging and reclamation projects were awarded to MTCC and completed during that year. In 2018, MTCC was contracted to redevelop Artificial Beach of Male with a modern and functional concept and launched the Hiyaa Housing Project and Staff Housing Scheme as well.
In 2019 and 2020, MTCC was contracted and completed a plethora of projects, including harbor projects, reclamation projects and airport construction projects. The most significant recent project was the completion of Hoarafushi Airport.