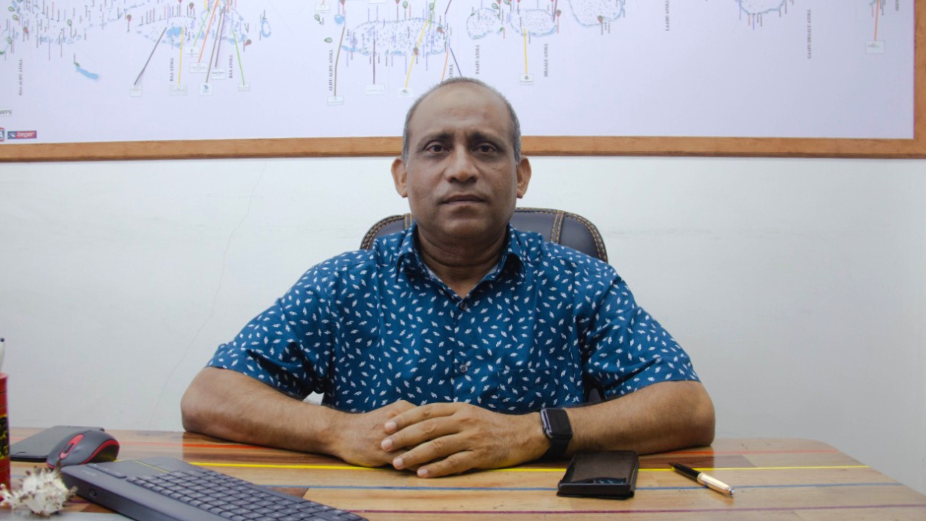 ColorLand is a company founded and owned by Mr. Nasrullah Abdul Wahid, with a focus on paint-related products and services. Our team sat down to have a chat with Mr. Nasrullah to dive deeper into his humble beginnings, and to find out the story of how ColorLand was established.
Could you tell us a bit about your career before ColorLand?
I'm actually a banker by profession. I studied Banking and Finance at the University of South Pacific from 1997 to 2001, after which I spent 12 years working at Bank of Maldives. I served in various seats, ranging from junior positions all the way to the bank's Chief Financial Officer. It was a time-consuming role, of course, involving a great deal of hands-on research and number crunching. I resigned in 2012, and started my own business with assistance from my friends and family.
What has the journey been like since then?
It's been almost 8 years since I started the business. I founded ColorLand as a sole proprietor in 2012, by acquiring some equipment and machinery from Rainbow, such as tinting machines and shakers. In the beginning, I imported paints from Thailand, from a company called Beger. We now also stock paints from another Thai company called TOA. These are two of the largest paint companies in Asia.
Around 2014, we started business with Betek, which is a German company based in Turkey. Now we offer three different paint brands, and have three different showrooms in Male'. I've also got my agents, having provided machines to other companies like Veligaa Hardware and Followme Hardware. We've got a huge network in Maldives now, in terms of both distribution channels and supply channels.
On the development side, we have developed fee commercial buildings in Hulhumale' and Male' on a real estate basis. Now, our 4 different showrooms and offices are located on our own developed premises as well.
For those who might be unaware, could you give a brief overview of the paint market in the Maldives?
The paint market in the Maldives is quite small compared to other nations. There are 17 commercial paint brands in the market, including 3 of my brands. The Maldivian government is very much involved in this sector as well, as State Trading Organisation (STO) deals with importing Nippon paint into the country. Most of the time, government project bids use Nippon brand specifically, making it a challenge to grow our market share.
Despite this, our brands can compete very well in terms of quality, durability and effectiveness. The brands carried by ColorLand are advanced and world renowned; they have been established in the international market for over 50 years. What's more, unlike many other companies, ColorLand's product range consists of both economical and high-end paints. This means that our products can compete on each and every front, giving us an enviable market advantage.
What are the projects currently underway at ColorLand? What can we expect to see in the future?
At the moment, we have undertaken projects to provide paint and construction materials for different resorts. These resorts are under renovation, and one of them is about to be newly opened. We also have a great number of resorts that we regularly supply to, spread all across the Maldives.
As for the future, we are now negotiating large-scale projects with the Maldivian government and developers, including major construction companies. We are negotiating with a 1000 housing unit project to affiliate with them, so in the future, there is a fairly good scope for ColorLand.
The COVID-19 pandemic has caused severe economic disruptions across the globe. What kind of challenges have you personally faced within your business?
There are a few aspects to the challenges caused by the pandemic. One major factor is the crash in the dollar exchange rate, which is about 34% as of today. This has taken an enormous toll on our costs, which have risen due to the spike in the exchange rate.
Delivery channels from our suppliers are also affected due to global restrictions on movement. From Europe, it now takes about three months for the products to reach Maldives. This means that we have to have a few containers sailing on the sea to Male' at any given time, to ensure minimal disruption to our customers. We have to pay for the containers in advance, which tightens our cash flow even further.
On the other hand, there is a credit crunch with regards to our customers. Most of our clients are high-end resorts, and due to the border closure and steep fall in tourism demand, the Maldivian hospitality industry has been badly affected. Customers are unable to make timely payments, which results in a tough dead-lock situation.
How did you manage to deal with those obstacles?
Although we are unable to fully resolve our revenue-side issues, we did take some significant measures to curb our costs. We slowed down certain expenses, such as moving products from several godowns to one single godown.
However, even when cutting down our costs, we did not let go of any of our staff nor did we reduce any of their salaries. We have more than 50 employees on our payroll, and I made sure their salaries were paid in full in spite of the effects of the pandemic.
That brings me to my next question – could you tell us about the CSR efforts undertaken by ColorLand?
Annually, we spend over MVR 100,000 on CSR activities. Across the Maldives, we provide paint for prayer rooms in schools as well as some mosques, free of charge. We have also provided paint services and renovation assistance to the orphanage in Vilingili and local island councils.
Apart from that, I try to maintain my personal values and ethical beliefs throughout all aspects of my business. When hiring new staff, for example, I give priority to disadvantaged youth, especially those that have had an unfortunate upbringing. I believe they deserve the same opportunity to live dignified lives, much like everyone else.
Lastly, do you have a few words of advice for young aspiring entrepreneurs?
Stay in the business. There's no magic bullet when it comes to entrepreneurship; your business will take its own time to grow. Ride out the currents, adapt to changes in the environment, and make adjustments with your product line and pricing according to the needs of your customers. But stay in the business – that's the most important thing.