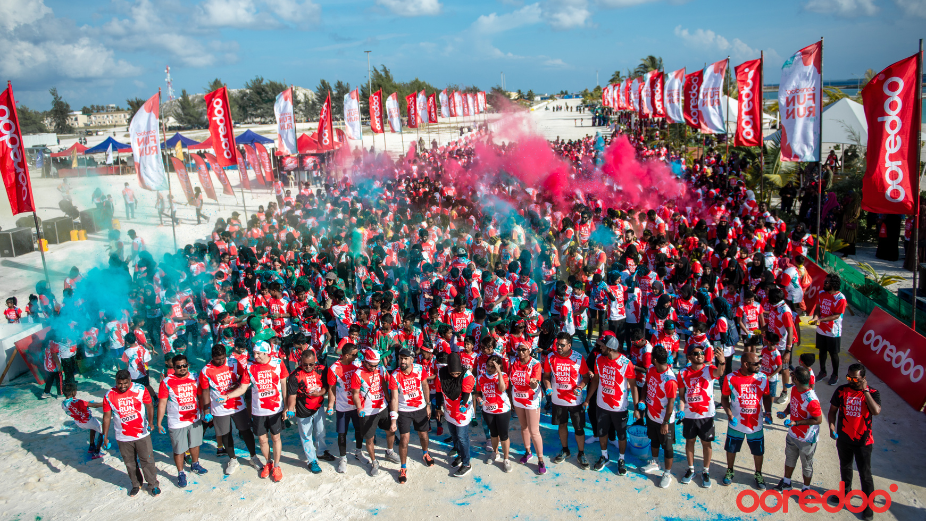 Ooredoo Maldives concluded Ooredoo Fun Run in Kulhudhuffushi City with over 3000 participants, making the happiness-filled run hosted in Kulhudhuffushi today the biggest run ever held outside of Male' City in the Maldives. The Ooredoo Fun Run, which took place on May 5th, 2023 saw participants from across Haa Dhaalu Atoll come together in Kulhudhuffushi City for an unforgettable event. 
The run kicked off with a selfie taken by Ooredoo Maldives Managing Director & CEO, Khalid Al-Hamadi, along with Hon. Mohamed Raee, MP for Makunudhoo, Kulhudhuffushi City Mayor Mohamed Athif, Deputy Mayor of Kulhudhuffushi City Ali Ahmed, Hanimadhoo Council President, Abdul Sattar, Nolhivaranfaru Council President, Abdulla Nadheem, Makunudhoo Council President, Auzam Adam, Hirimaradhoo Council President, Mohamed Waheed, Nellaidhoo Council President, Mohamed Aleef and Ooredoo Maldives management team, with the enthusiastic runners in the background. 
Ooredoo Fun Run is more than just a run. It's a celebration of a healthy and active lifestyle, and the event was a success in promoting this message. Every kilometre covered was celebrated with a unique fun station with colours, inflatable obstacles, and even a foam party, making it a perfect combination of exercise and excitement. It was an event for everyone, regardless of age or experience.
"It was our absolute delight to Host Ooredoo Fun Run in Kulhudhuffushi City and bring this ultimate fun-filled event to the people of Haa Dhaalu Atoll. Our warmest gratitude to the Mayor of Kulhudhuffushi City, Mohamed Athif and the Kulhudhuffushi Council members for their unwavering support in making this event a memorable and unforgettable experience. The overwhelming response, high spirits, and energy displayed by the participants were truly heartening. It was wonderful to witness people of all ages enjoying themselves with their loved ones. We look forward to organizing more such events with the people of the Haa Dhaalu Atoll and creating unforgettable memories together." 
"It was an absolute pleasure to have Ooredoo Fun Run held in our beautiful city of Kulhudhuffushi. The event brought together people from across the atoll, promoting healthy lifestyles and community spirit. It is a moment of pride for us, as the entire event from event management and coordination to entertainment was led by the talented members of our "Bodu Thiladhunmathi" community. I would like to express our sincere gratitude to Ooredoo Maldives for organizing this remarkable event in our city and hope to see more exciting events like this in the future." Kulhudhuffushi City Council Mayor, Mohamed Athif.
Ooredoo Maldives extends its sincerest gratitude to event partners – Host Partner, Kulhudhuffushi City Council, for their cooperation and collaboration throughout the planning and execution of the event. The company also highlights the support received from Ooredoo Fun Run Beverage Partner: Coca-Cola, Media Partner: Kulhudhuffushi Online, Event Partner: W Craft Center, Photography Partner: Eyewell Portrait, Broadcasting Partner: SSTV, Medical Partner: Kulhudhuffushi Regional Hospital, First Aid Partner: Maldivian Red Crescent Kulhudhuffushi City, Safety Partner: Maldives Police Service for their invaluable support in making Ooredoo Fun Run – Kulhudhuffushi edition a resounding success. Furthermore, Ooredoo also extends its warmest thanks to Kulhudhuffushi City youth empowerment organisations Hirafus, ZigZag for Youth Linkage and Club Corals for their wonderful support in ensuring our runners have a wonderful time. 
Ooredoo Maldives is already gearing up for the next edition of the Ooredoo Fun Run, which will be held in Hulhumale' later this year. The company plans to expand the run to more regions in the coming years, so everyone can be part of this fun and exciting event.