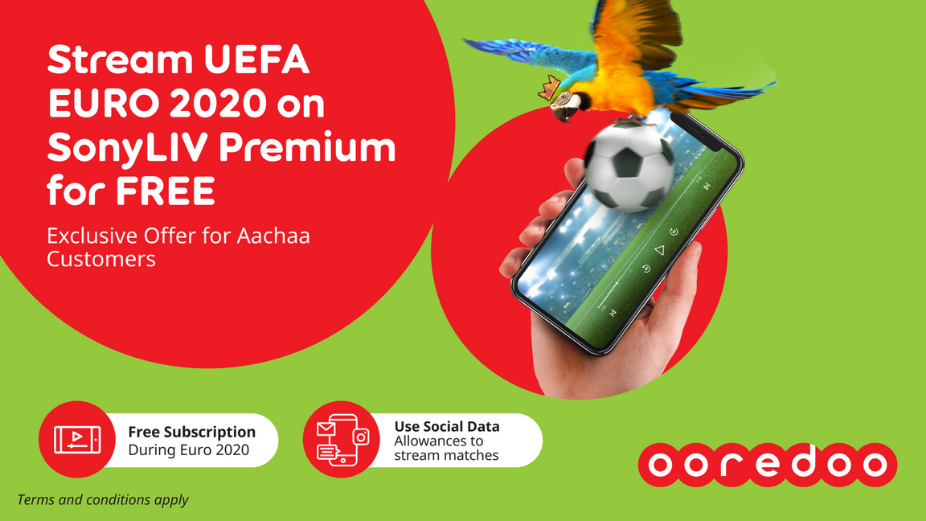 Ooredoo Maldives has teamed up with SonyLIV, a video on demand platform, to enable its customers to easily livestream the much-awaited UEFA Euro 2020 from anywhere.
Under this special partnership, Ooredoo Maldives has launched a special Euro 2020 Pack valid for 30 days, which offers free SonyLIV premium monthly access throughout UEFA EURO 2020 and an exciting 20GB allowance which can be used to stream the matches live on the SonyLIV platform. Customers can also use the data allowance for Netflix, iflix, TikTok, SoundCloud & Spotify.
As a special surprise for football fans, Ooredoo Maldives is also providing free SonyLIV premium access to all of its Aachaa Postpaid customers, enabling them to easily enjoy Euro Cup 2020 matches on the popular streaming platform. Both existing and new Aachaa Postpaid customers, will also be able to use social data allowance to stream the matches on SonyLIV throughout the EURO 2020 period. These exciting benefits have also been extended for existing and new customers subscribing to Aachaa Prepaid 2GB/Day Monthly plan, Supernet 50M, and 100M plan.
"Football has always been something that brings happiness and togetherness among the Maldivian community. As we gear up for the much-awaited Euro Cup 2020, we are excited to have partnered with SonyLIV, one of the top streaming platforms and provide our customers great benefits with our special offers. Our aim is to create an exciting experience for our customers and enable them to enjoy the matches live from wherever they are." Ooredoo Maldives Chief Commercial Officer, Hussain Niyaz.
Under this special offer customers who subscribe to Aachaa Postpaid 600, Aachaa Postpaid 800, Aachaa 2GB/Day Monthly, Euro Cup 250, Supernet 50M, and 100M plan on and after 11th of June 2021 are eligible to get 1-month free access to premium content SonyLIV, while customers who subscribe to Aachaa Postpaid 1000 can enjoy premium content on SonyLIV for an entire year.
SonyLIV is the first premium Video on Demand (VOD) service by Sony Pictures providing multi-screen engagement to users on all devices. It enables users to discover 20 years of rich content including popular TV shows, Movies, Sports and Web series.To subscribe to EURO Pack, Aachaa Postpaid or Aachaa Prepaid, please visit http://ore.do/app.
For more info, please visit http://ore.do/sonyliv