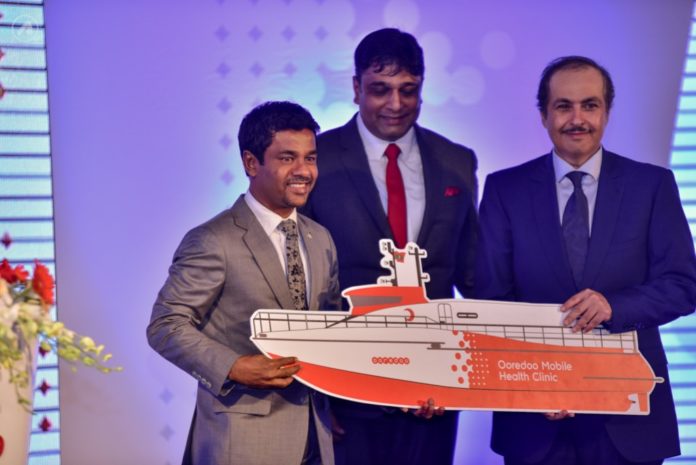 Ooredoo Maldives made several CSR pledges during IPO launch function held at Dharubaaruge on 12th October.
At the IPO function at Dharubaaruge, Ooredoo donated three sea ambulances, revealed plans for mobile health clinics and the setup of IT incubators at three special areas across the country and topping these off with the planned proposal for an international football stadium to be built in Hulhumaale'.
The CSR pledges were handed over to the Maldives by His Excellency Sheikh Abdulla Bin Mohammed Bin Saud Al Thani. These were recieved on behalf of the Maldives by Health Minister Mr. Abdullah Nazim Ibrahim and Youth Minister Mr. Iruthishaam Adam.
Addressing the attendees at the function, Chairman of the Ooredoo Group Sheikh Abdullah Bin Mohamed Bin Saud stated that the Maldives is a key partner and an important part of the Ooredoo Group. The sea ambulances are to be given to the Red Crescent, and incubators are to be setup at 3 different areas of the country to empower women to get into the ICT and for the development of the economy as a whole.
In his address he also stated that the Maldives is the country with the highest rate of development and progress annually out of all the countries in which Ooredoo operates. Furthermore, the well organisation and expertise of the managerial team combined with efforts of the all Ooredoo staff members, the Maldives has access to the high quality and speed that Ooredoo is known for internationally.