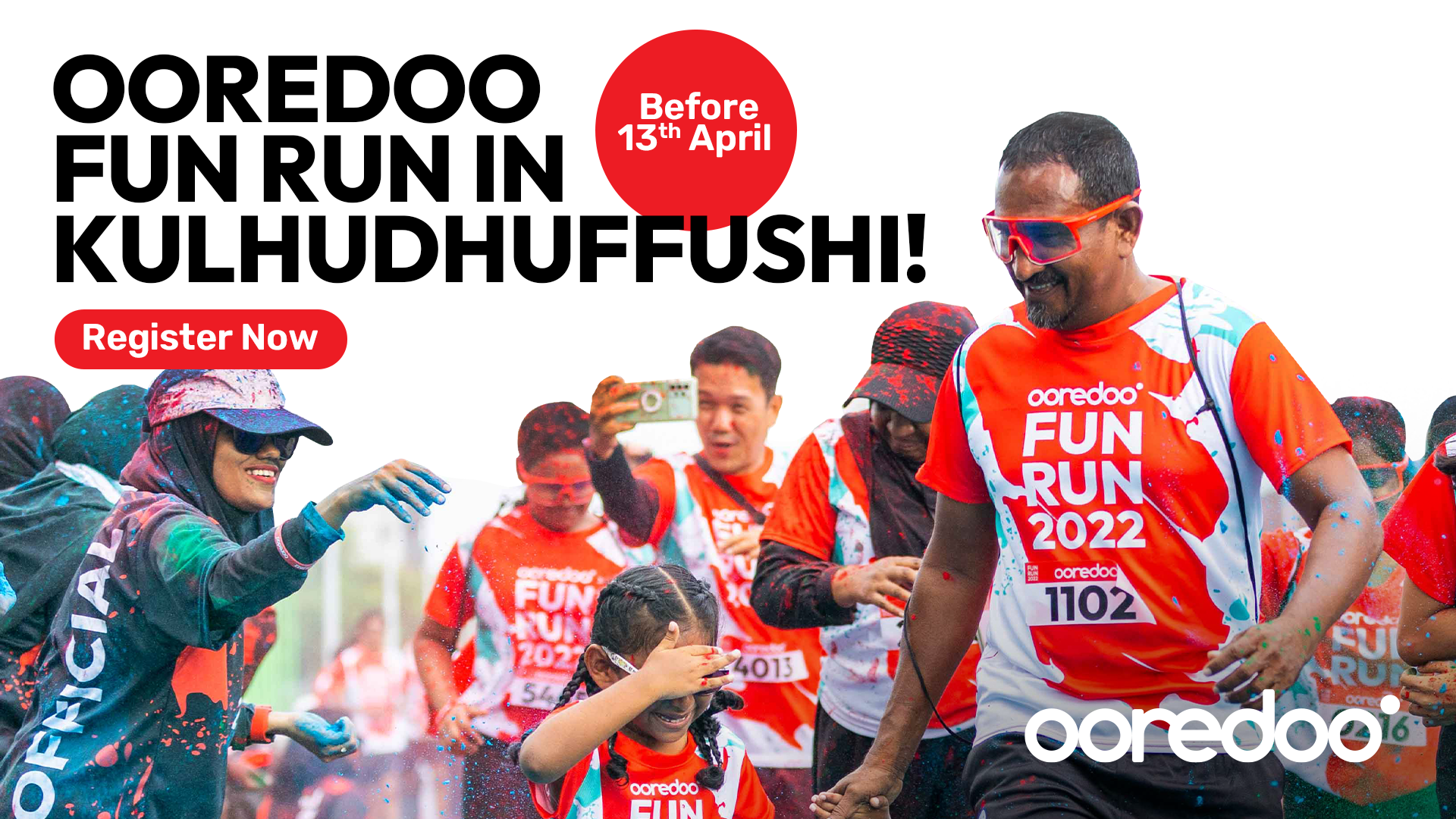 Ooredoo Maldives has announced that the famous Fun Run – The Happiest Run in the Maldives, will be held in HDh. Kulhudhufhushi this May. The company has opened registration for the Ooredoo Fun Run Kulhudhufushi edition via http://ore.do/funrunkit for people interested in participating in this fun 5K run.
Ooredoo Fun Run is an upgraded version of the annual Ooredoo Color Run, featuring foam, water, and obstacles placed at every kilometre throughout the untimed 5km run. Last year, the Ooredoo Color Run was upgraded to the Ooredoo Fun Run, and over 5000 participants joined the fun activities in Hulhumale'. Now, the Fun Run is heading to Kulhudhufhushi on 5th May 2023, and it will be the biggest and most exciting event to be held in Haa Dhaalu atoll this year.
Ooredoo Fun Run kits will be available in two categories:
Standard kits priced at MVR 100 come with Fun Run T-shirt and wristband.
Fun kits priced at MVR 200 include a Fun Run T-shirt, wristband, cloth bag, eyeglasses and a multipurpose bandana.
"We are thrilled to bring this much-loved event to HDh. Kulhudhufushi and enable the people of Haa Dhaalu atoll and visitors to experience the excitement and joy of Ooredoo Fun Run. We aim to promote running as a fun way to achieve a healthy and active lifestyle and bring people together for a day of fun." Managing Director & CEO of Ooredoo Maldives, Khalid Al Hamadi.
The Ooredoo Fun Run is not just a run, it's an adventure. From the moment participants cross the starting line, they'll be immersed in a world of colours, thrilling obstacles, water sprays and a foam party to celebrate the completion of the run. The run is untimed, so runners can take their time and enjoy the journey with their friends and family, laughing and cheering each other on as they complete the challenge.
Registration for Ooredoo Fun Run will close on 13th April 2023 and Ooredoo invites everyone to join the fun. Don't miss out on the chance to be a part of this unforgettable event and experience the joy of the Fun Run first-hand. To register for Ooredoo Fun Run – Kulhudhufushi edition, visit: http://ore.do/funrunkit