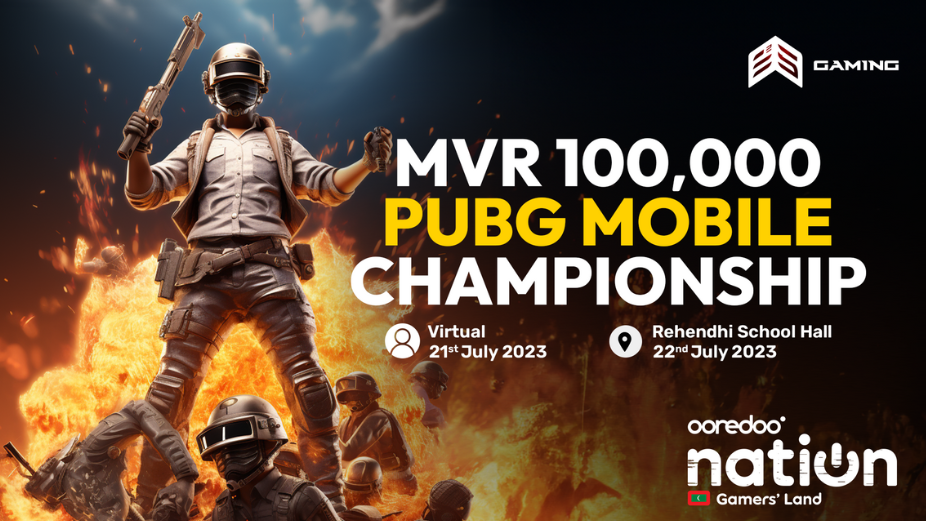 Ooredoo Nation – Gamer's Land announced Ooredoo Nation PUBG Championship, the biggest PUBG tournament to be held in the Maldives with a prize pool of MVR 100,000. This highly anticipated tournament scheduled to take place on the 21st and 22nd of July 2023 is set to bring together the most skilled and competitive teams from the gaming community. Following the success of the Road to 100K qualifying tournaments held in 2022, namely Contender Series 1, 2, and 3, as well as the Wild Card Entry Series, a total of 16 elite teams have advanced to the championship to compete for a massive prize pool of MVR100,000.
Ooredoo Nation PUBG Championship will feature a dynamic blend of virtual matches on the first day and exciting live matches on the second day at Rehendhi School Hall. On the first day, July 21st, 2023, teams will enter the virtual battleground as a total of six thrilling matches unfold. The second-day matches will kick off on 22nd July from 8:00 AM to 6:00 PM at Rehendhi School Hall. 
The finale of the championship will be a grand closing ceremony held on the 22nd of July at Rehendhi School, where the top teams will be recognized and awarded for their outstanding performance. The awards include:
1st Place: MVR 50,000
2nd Place: MVR 30,000
3rd Place: MVR 15,000
MVP (Most Valuable Player): MVR 5,000
To stay up to date with the championship, team updates, schedules and more, please visit the official Ooredoo Nation social media accounts and website via www.ooredoonation.mv.