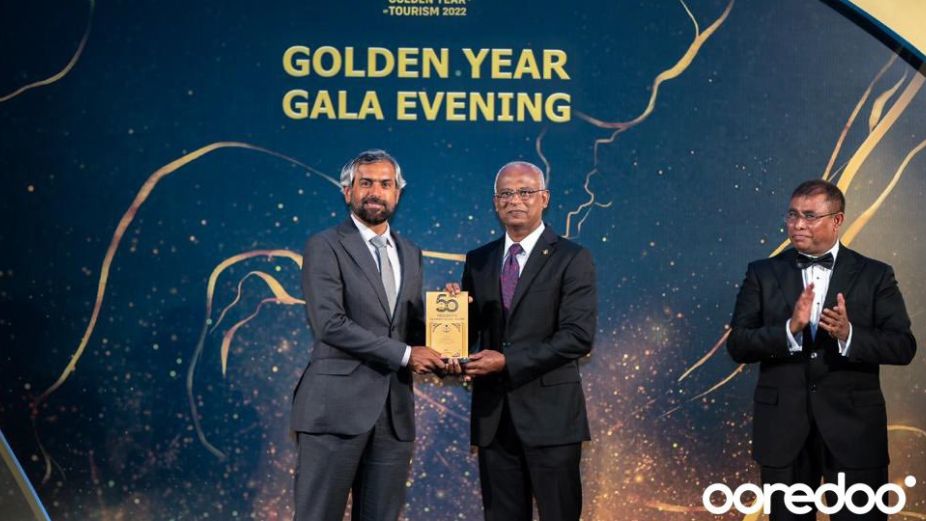 As a token of appreciation for the contributions that Ooredoo has made to the tourist sector in the Maldives, the President's Tourism Gold Award has been bestowed upon the company.
At the Tourism Golden Year Gala Evening held at Kurumba Maldives on Monday night to commemorate 50 years of tourism in the Maldives, President Ibrahim Mohamed Solih presented the award to CEO Khalid Al-Hamadi of Ooredoo Maldives.
Since its founding 17 years ago, Ooredoo Maldives has played an essential role in promoting the Maldives as a tourism destination.
Among its significant achievements over the years is the Digital Resort App, a streamlined portal allowing tourists to interact with resorts before, during, and after their stay.
In collaboration with Maldives Marketing and Public Relations Corporation (MMPRC), Ooredoo launched the Visit Maldives Now campaign in 2020. During the campaign, Ooredoo marketed Maldives across its many channels, reaching over 117 million customers globally.
As part of the campaign, Ooredoo ran a five-month promotion that gave users the chance to win a fully funded stay at a Maldivian guesthouse by sharing images and videos of the island nation.
Ooredoo is committed to maintaining its partnerships within the tourism industry in order to foster growth and promotion within the sector.