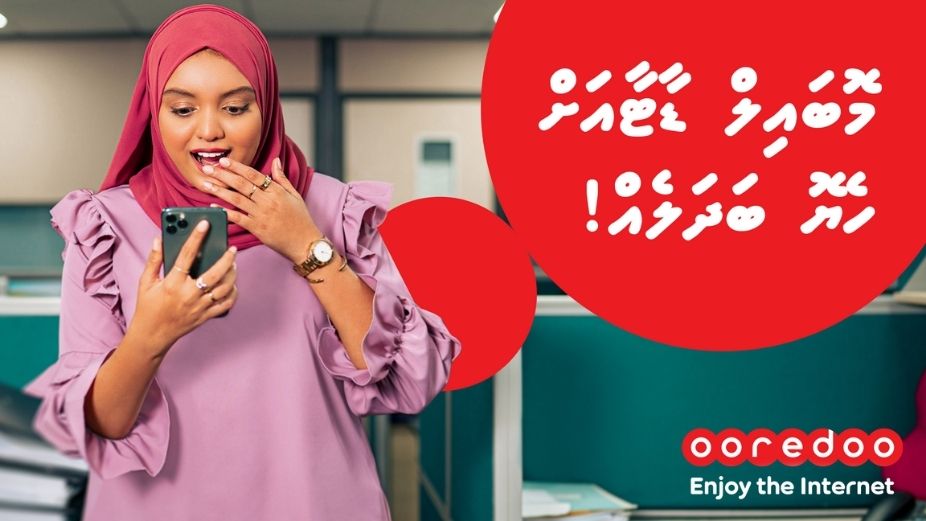 As part of its commitment to provide quality internet service to enable access to the internet for all and create a truly Digital Maldives, Ooredoo Maldives has unveiled exciting new Prepaid, Postpaid and Faseyha Home Broadband plans with fantastic benefits. Ooredoo has said with increased digital services has tremendously increased the demand for the internet and reassures its commitment to support the growing digital needs of its customers.
Upto 60% more Data on Prepaid Plans
Under the NetuHeyo initiative, Ooredoo Maldives has brought notable changes to its existing Prepaid Add-on plans offering up to 60% larger data allowances enabling prepaid customers to truly benefit from the digital world and an enjoyable internet experience. With this change, overall price of data on Ooredoo prepaid has been reduced by up to 38%.
All new Postpaid Plans with up to 30% more Data, and Data Rollover Services
All new NetuHeyo Postpaid plans launched under the #NetuHeyo initiative, offering great benefits at much more affordable rates.
Up to 30% Larger Data Allowances with up to 29% reduction in cost of data, making data much more affordable for our Postpaid customers and enabling them to browse care-free at much affordable rates.
Dedicated Social Media Allowances allowing customers to use Viber, Twitter, WhatsApp, Facebook, Instagram and Telegram within the social media monthly allowance.
Data Rollover services available on NetuHeyo Postpaid 600 & above, whereby any leftover regular data will be carried forward to the next month.
Customers can easily upgrade to these new Postpaid Plans digitally via Ooredoo App; http://ore.do/app
Up to 25% more Data on Faseyha Broadband Plans, with an additional 80% Data Bonus
Up to 25% more data on all Faseyha Home Broadband Plans, with a reduction of up to 20% on overall price of data. The new portfolio offers massive data benefits for its Faseyha Home Broadband customers, to cater for their increasing needs for internet services.
As a special offer, the company is also providing a massive data bonus offering up to 80% more data throughout 2021.
Any data leftover at the end of the month on Faseyha Home Broadband Plans will be carried forward under Data Rollover service, available exclusively on Ooredoo.
Faseyha Home Broadband is easy to use with instant service activation upon acquiring the service. With an easily movable router, the service is most suitable for customers who often relocates, for students and home-based business owners.
Ooredoo Maldives has always been a pioneer in the telecom industry providing innovative and quality services with more value at affordable rates. The telecom giant has recently introduced Aachaa Prepaid & Postpaid plans with massive data allowances and first of its kind benefits allowing customers to manage data without worry. With the newly introduced plans and upgrades under the NetuHeyo initiative Ooredoo Maldives will now be offering even more value to the already best plans in the market. The above-mentioned changes will be made available for Ooredoo Maldives customers from 1st October 2021 onwards