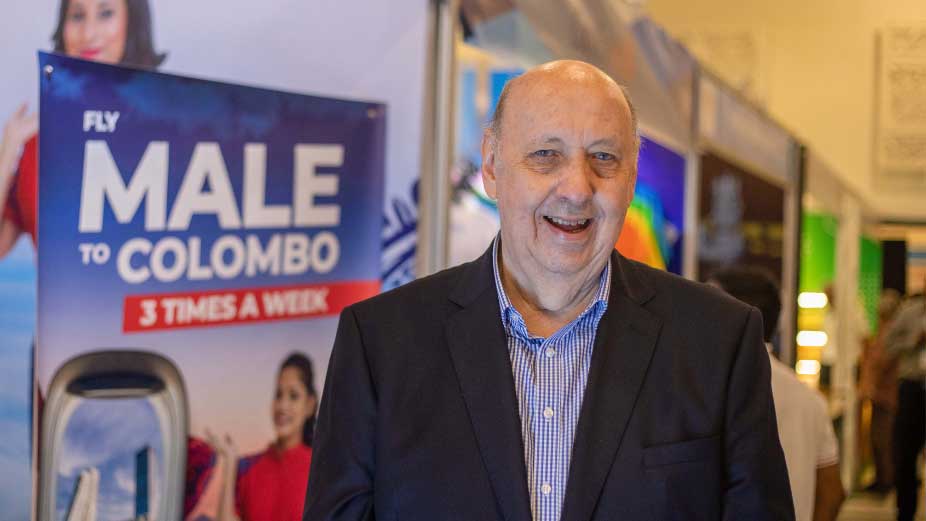 Mr. Peter Hill is the Vice President – Passenger of FitsAir, a low-cost Sri Lankan carrier that recently began operating flights to the Maldives. FitsAir offers a unique service based on value for money while achieving stringent service standards. Our team sat down to have a chat with Peter to find out more about the airline and its offerings to travellers.
Tell us a bit about FitsAir. Where does the airline currently fly to?
My name's Peter Hill and I'm basically in charge of passenger operations for FitsAir. Before you ask, what does 'FITS' stand for? I'll tell you. 'FITS' stands for Friend in the Skies. So it's quite simple when you see the correlation between FitsAir and the tagline because that's what we are.
We've been in the cargo business for more than 25 years, but just this month, we've started flying passenger services. The market we're in is basically affordable passenger services in the region. We are based in Colombo out of Bandaranaike International Airport, and we are initially flying three times a week to Dubai, and three times a week to the Maldives. Next month we'll be flying destinations into Southern India, and you can expect to see some increase in frequencies and destinations within this region — the Indian subcontinent predominantly, and the GCC, Colombo, and maybe a little later to Southeast Asia. Moving forward, we aim to be a sustainable but profitable airline.
How does FitsAir differentiate itself from other airlines?
Our real strength is affordability. As a low-cost carrier, we want to encourage everybody to travel, and I mean everybody. We are trying to make sure that we really appeal to the average guy. You don't have to dress up to fly with us; even our cabin crew, they're in a very informal, fun style of uniform.
I worked with SriLankan Airlines for 10 years. It's a different style of carrier that's a full-service carrier, but you pay for the privilege. At FitsAir, we're relaxed, and we want to offer the opportunity for everybody to travel. We're like the bus service as opposed to the luxury limousine service.
We have a fleet of Airbus A320 aircraft, which feature 156 economy seats and eight economy plus seats. With the economy plus seats, you get a little bit more legroom, some light refreshments, preferential boarding and departure, all complimentary in the price of the ticket. So, that's a slightly better way of traveling if you can afford to pay a little bit more money.
With this new low-cost carrier service, how do you think it will add value to the Maldives' tourism portfolio?
We're looking at the new dimension of air travel encompassing affordability and convenience. That's the sort of thing we can bring to the table, which other airlines really aren't focusing on today. Our partner in the Maldives is Aviation Services, so we are working closely with locals to understand the market and deliver what our consumers need.
One of the things I think is important is that there is a different style of market building up here in the Maldives. Once upon a time, when I first started working with Emirates and SriLankan Airlines, it was virtually all five-star accommodations and luxury resorts all over the Maldives, which was fantastic for our products those days. Although it still is the hallmark of the Maldives' traditional tourism today, there are now boutique hotels and resorts starting on some islands. They are much more affordable and hence much more attractive to those who would love to come to the Maldives but can't afford the five-star prices. We are partnering with some of these resorts with our very affordable airfares as well. We think it makes a good combination, and we can really see this market building up in the next couple of years.
We also see a big enhancement in traveling to visit friends and relatives. As you know, there are more than 20,000 Maldivians living in the region who travel back and forth. They'll be able to travel much more frequently with the operation of FitsAir.
You mentioned earlier that you aim to be a sustainable but profitable airline. Could you elaborate a bit on that?
In order for us to mount a service, we've got able to, first of all, provide our shareholders with a return on investment. We have a board of directors, and they wouldn't invest in a venture like this if they did not see it as being sustainable for the future.
Plus, we have to recognize that the world has to become a greener place. And so, we have to actually be operating the aircraft in a greener fashion. The A320 is a very fuel-efficient airplane, perfect for the routes we fly. Furthermore, some of the routes we will be flying to are with turboprop aircraft, which burn less fuel and are more fuel efficient.
Anything else to add?
We hope to see an increase in travel in this region. Not today, not tomorrow, but gradually, we expect to see a greater number of travellers as we introduce more flights and operate in more destinations. We'll be opening up places like Jaffna very soon and serving the market in the north of Sri Lanka to South India, and maybe even from Jaffna to the Maldives. So, there are many dimensions to it. That's about where we're at right now. Watch our space, watch us grow. Let's have a chat in six months' time, and see where we are then. We look forward to welcoming you onboard someday on FitsAir — your friend in the sky.