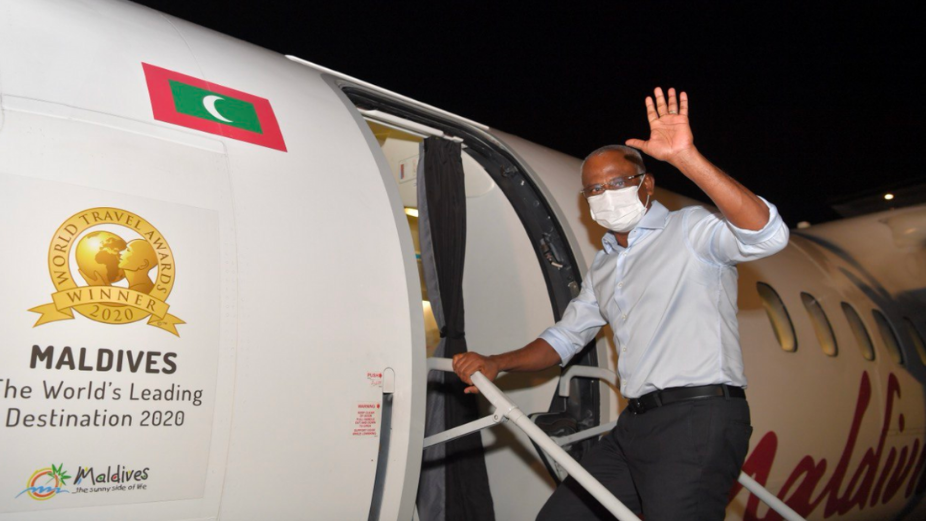 President Ibrahim Mohamed Solih has concluded his trip to seven islands and returned to Malé on Thursday evening.
The President visited Thimarafushi Island, and then to Kinbidhoo Island, Omadhoo Island, Veymandoo Island, Vandhoo Island, Kandoodhoo Island and Gaadhiffushi Island, in that order. He met with the Island Councils and WDC of each island, as well as the Kolhumadulu Atoll Council, discussing their requirements and sharing the latest updates on the Public Service Investment Programme (PSIP) projects conducted by the government in the islands and the atoll.
Additionally, at Thimarafushi Island, he also met with local business owners and members of the fisher community of Thimarafushi Island. The President also visited the site for the construction of 100 housing units, the Kolhumadulu Atoll Education Centre and the island's health centre, speaking to the staff and inquiring about details of the operations. At Kinbidhoo Island, President Solih visited several key institutions such as the local school and health centre, holding discussions with the staff on improving services and operations. He also inspected the progress of the water and sewerage project on the island.
At Omadhoo Island, the third stop, President Solih officially inaugurated the Omadhoo Harbour. Speaking at the ceremony, he stated that basic utilities such as water, sewerage and electricity, and harbours, to accommodate smooth embarking and disembarking from the island, as well as easy access to quality education and healthcare, is the right of every Maldivian citizen. President Solih also delineated several other projects planned or already underway at neighbouring islands in Kolhumadulu Atoll, namely Burunee Island, Madifushi Island and Vilifushi Island.
At Veymandoo Island, the capital of the atoll, the President visited several key institutions of the Atoll. He met with the Atoll Council, as well as visiting and holding discussions with the staff at the Atoll Hospital, the Family and Children's Service Centre (FCSC) by the Ministry of Family, Gender and Social Services, and Veymandoo School.
Next, President Solih visited Vandhoo Island, where he held discussions with the fisher community of the island, stating that the government places great value on developing and expanding the fishing industry. He also toured some historical sites on the island, stressing the importance of maintaining and protecting sites of historical significance and encouraging the development of such sites as tourist attractions.
The President's sixth destination was Kandoodhoo Island, where he held a meeting with the local farmers, discussing their needs to improve the local farming and agriculture sector of the Maldives. President Solih assured the farmers that their concerns would be addressed via the relevant government agencies.
The President's last stop was at Gaadhiffushi Island, before returning to Thimarafushi to depart back to Malé City this evening. President Solih was accompanied on this trip by cabinet ministers, senior officials from the President's Office and a delegation of high-level government officials.