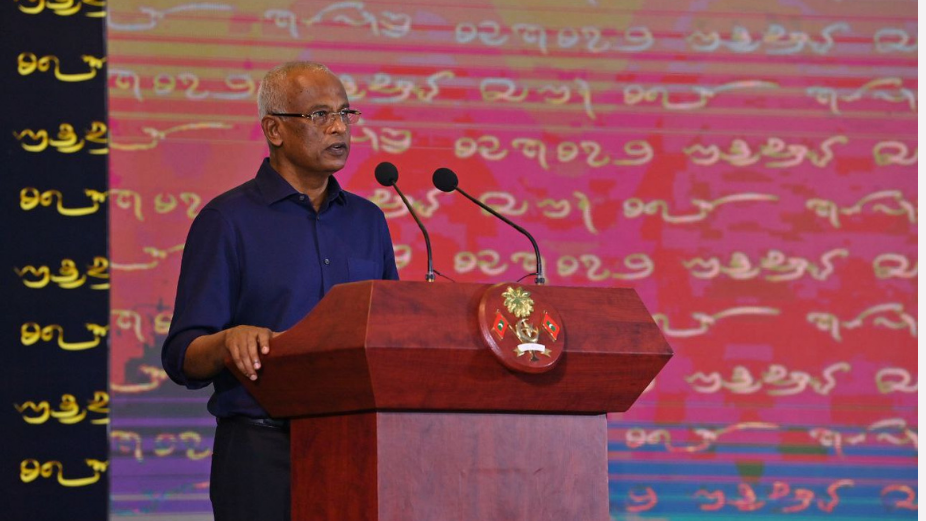 President Ibrahim Mohamed Solih, on Wednesday evening, expressed his confidence in the administration's sound fiscal measures and economic policies, stating that they would lead to the successful revival and recovery of the country's economy. He made the remarks while speaking at a ceremony held at the CROSSROADS Maldives to celebrate Malé Water and Sewerage Company Pvt Ltd (MWSC) 's 27th anniversary.
President Solih stated that the Maldives' economy is experiencing the implications of the Covid-19 pandemic and the Russia-Ukraine conflict. The administration, the President said, is reprioritising its developmental initiatives and adopting austerity measures to counter the effects of the events that are severely affecting the global economy.
The crisis in Ukraine led to decreased tourist arrivals to the Maldives from one of its top markets and resulted in a rise in global fuel prices, inflation, and the administration's spending on subsidies and imports. President Solih, however, assured that the administration would not take any steps that would undermine the economy.
The President, in this regard, explained the reasons behind the administration's decision to recall its proposed bill to lower tourism land rent. President Solih said the decision followed comprehensive deliberations on the Economic Council, which found it ill-advised to pursue such measures in light of the current situation.
President Solih stated that, despite the setbacks, a positive trajectory is expected, with increased tourist arrivals and income exceeding earlier projections. He then assured that debt servicing is on track for the 2023-24 period and expressed confidence in the administration's sound economic policies.
Speaking about MWSC and its achievements under his administration, President Solih recalled that 70 per cent of the country lacked proper drinking water and sewerage networks when the administration took office. Highlighting his pledge to establish water and sewerage networks on all inhabited islands during his term, President Solih stated that it would bring significant improvements to the quality of life. Clean drinking water, the President said, would lower the risk of waterborne diseases and lead to healthier lives while simultaneously resolving drinking water shortages. It would also allow the administration to reprioritise funds to focus on other essential requirements.
Citing the increasing concerns over persistent environmental issues, President Solih emphasised the importance of seeking methods of utilising renewable energy sources to harvest water. He added that the administration's water and sewerage network projects would be conducted in an environment-friendly manner. MVR 836 million from the MVR 1.5 billion earmarked in the budget this year for environmental protection is utilised to develop water and sewerage networks.
At tonight's ceremony, President Solih presented awards to the recipients of the "Chairman's Award for Excellency," while Vice President Faisal Naseem gave away awards to the "Unique Performance Award" recipients.