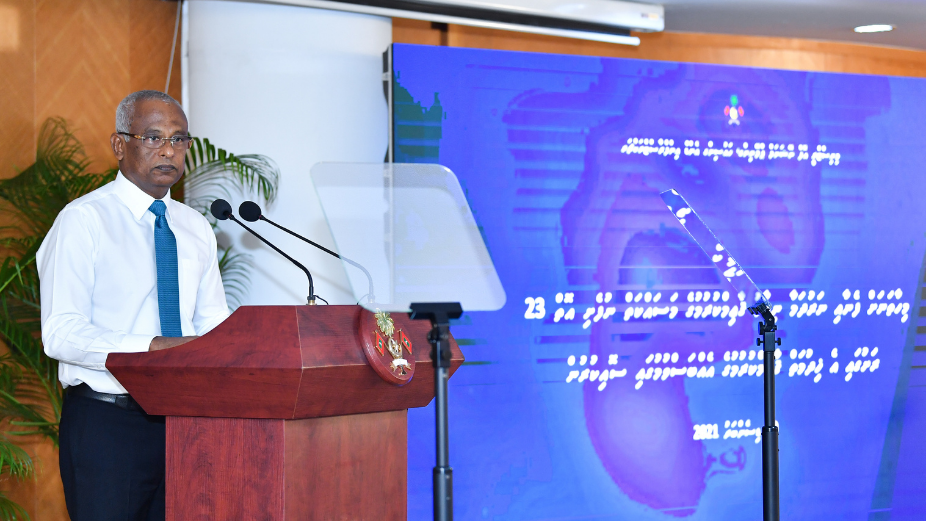 President Ibrahim Mohamed Solih on 29th December 2021 Wednesday, reaffirmed the administration's commitment to ensuring fairness and impartiality in bringing socio-economic development and delivering public services. He made these remarks at a ceremony held to commission water and sewerage network projects on 23 islands.
The 23 projects are for the last of the inhabited islands that lack access to clean water and sewerage networks, with today's signings marking the launch of water and sewerage projects on all inhabited islands. On this note, President Solih stressed that the signing of contracts today is a testament to the administration's pledge to deliver development and services irrespective of the size or population of the islands.
The President also shed light on the challenges facing infrastructure development due to the Covid-19 pandemic, which disrupted the supply chain, economic activities and travel. He said the administration never wavered from its pledges despite the challenges. On the projects signed today, the President noted that establishing water and sewerage networks in all inhabited islands had been a top priority for his government.
The President concluded his speech with positive news for the residents of Malé City, assuring them that the administration is working to resolve their housing concerns. He then offered some details about the efforts.