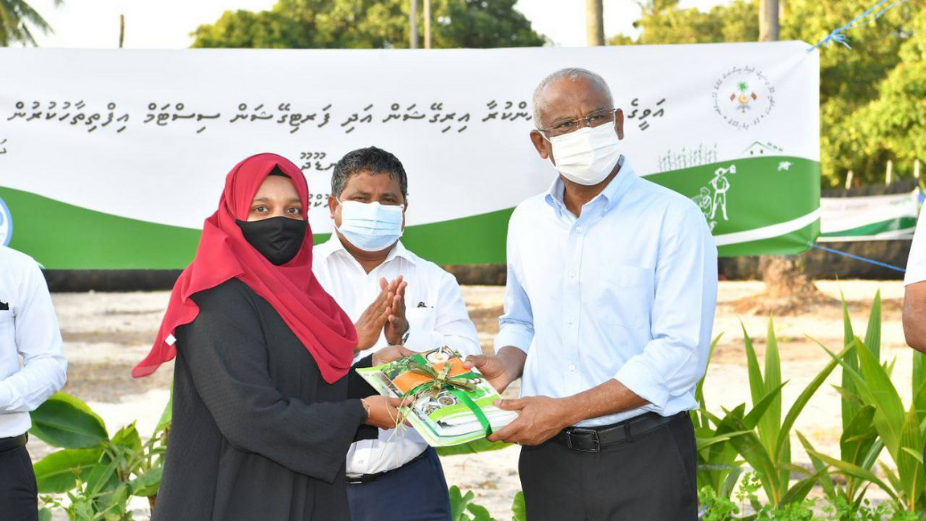 President Ibrahim Mohamed Solih has yesterday inaugurated the food security programme and fertigation system in Kandoodhoo Island of Kolhumadulu Atoll and officiated the opening of the food exhibition organised by the Island Council with the support of the Ministry of Fisheries, Marine Resources and Agriculture (MoFMRA). The President's trip to Kandoodhoo Island was to participate in the activities held to commemorate National Farmers' Day, celebrated on October 15, and World Food Day, marked internationally on October 16.
President Solih inaugurated the food security programme by presenting commonly-grown local plants to three farmers from Kandoodhoo Island. He also presented the first package of eco-friendly, organic fertilisers and pesticides to the Kandoodhoo Island Women's Development Committee (WDC), to introduce and encourage the use of organic and eco-friendly methods of dealing with pests and other difficulties that arise during farming on the island.
The food security programme, by the MoFMRA, aims to promote the production and easy availability of locally-grown healthy food items and reinvigorate the use of traditional nutritious ingredients used in Maldivian cuisine. They further aim to ensure the ease of availability of nutritious food items in the event of food scarcity. Under the National Farmers' Day activities, in addition to the endowment of local food-bearing plants and organic fertilisers and pesticides, the WDC was presented with an agroforestry farming plot. The plot is equipped with an advanced solar-powered plant watering system and a fertigation system that combines fertilisation and irrigation by injecting all water-soluble farming elements into an irrigation system.
Following the inauguration of the food security programme and fertigation system, President Solih visited and toured a local chilli pepper farm, after which he officially inaugurated the Food Exhibition in Kandoodhoo Island, at the Mauloodhu Haruge. The President also launched the Farmers Handbook, a publication by the Agro National Corporation (AgroNAT), at the event.
The food exhibition, an initiative of the Kandoodhoo Island Council in collaboration with the MoFMRA, aims to exhibit, promote and advertise locally produced food items and to display food products created from fresh locally-grown ingredients, in one place. The exhibition will take place on October 15 and 16, with stalls from four islands of Thaa Atoll in addition to the two stalls from Kandoodhoo Island and one stall from AgroNAT.
National Farmers' Day was previously observed on August 10. This is the first celebration of the day of this magnitude since President Solih declared, in 2020, that National Farmers' Day would be marked on October 15 of each year, to coincide with World Food Day on October 16.