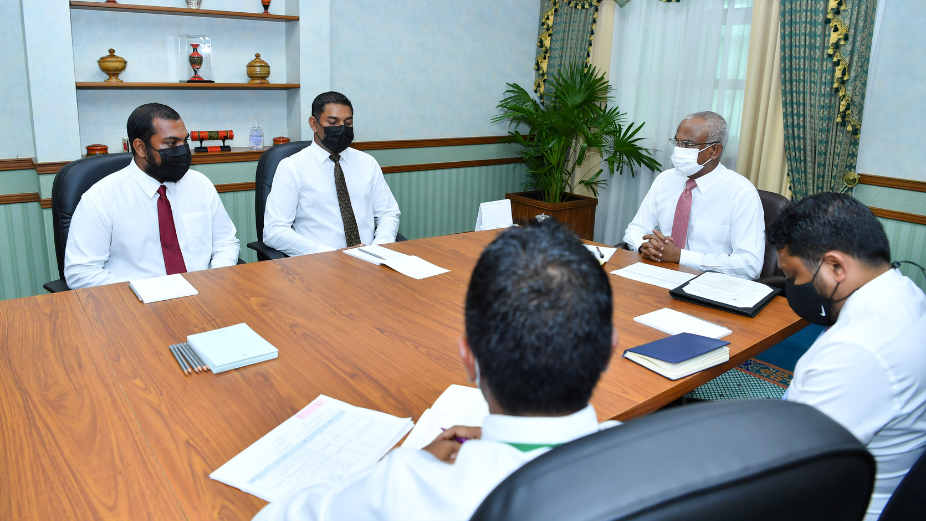 President Ibrahim Mohamed Solih met with the Hirilandhoo Council of Thaa Atoll on Sunday afternoon, where Council President Mohamed Jalal expressed satisfaction with the island's development plans, which are set to begin next year. President Solih and the council president spoke at length about the projects, in addition to the concerns and needs of the residents of Hirilandhoo.
The council president shared with President Solih concerns about delays in several projects, namely, land reclamation, water and sewerage, and infrastructure development in the Hirilandhoo School. He also spoke about the need to improve health services, including access to healthcare services and medicine. He went on to express the gratitude of Hirilandhoo residents, citing that the government had paved the way forward towards several developmental initiatives on the island.
President Solih gave a brief update on the developmental initiatives discussed at the meeting. Regarding the infrastructure needed for the school, President Solih assured that the project to develop new classrooms and a multi-purpose hall would be tendered soon, while land reclamation would proceed as pledged. He further inquired about the other needs and wishes of the residents of the island.