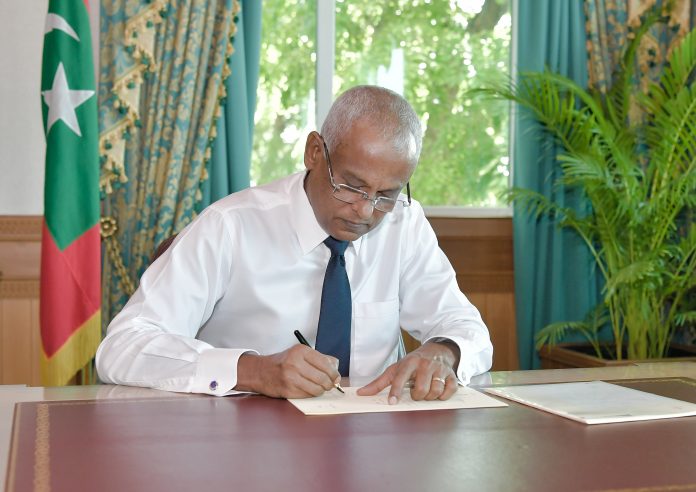 President Ibrahim Mohamed Solih has on Monday ratified the Consumer Protection Act, Competition Act and the fourth amendment to the Land Transportation Act. The three bills were approved by the Parliament on Tuesday, 18 August 2020, at the 28th sitting of the second session of the People's Majlis.
The Competition Act promotes positive competition and fair business practices, while discouraging monopolistic or oligopolistic trends in the market that would hinder economic growth. The Act stipulates procedures to hold violators accountable, including prohibiting corporate entities from influencing the market for unlawful gains, and preventing powerful corporations from abusing their market influence to force competitors to merge with them. The Act also vests authorities with the discretion to take measures to sustain a competitive business environment.
The Consumer Protection Act delineates the rights of consumers when purchasing goods and services, and the measures to be taken to protect these rights. The Act encompasses protections for consumers from false advertising and discrimination in the sale of goods and services, while also enforcing provisions relevant to product safety and reprisals for damaged or defective goods. The Act mandates that an Ombudsman be appointed, tasked with ensuring businesses' adherence to its provisions and enforcing compensation to consumers when necessary.
The fourth Amendment to the Land Transportation Act (Act no; 5/2009) ratified by the President today, adds an annex to the Act establishing a reporting mechanism for grievances resulting from traffic violations. The Act stipulates that unpaid traffic fines are hereon deemed as civil debts payable to the state, and sanctions the Maldives Inland Revenue Authority (MIRA) to pursue the recovery of unpaid dues through litigation.