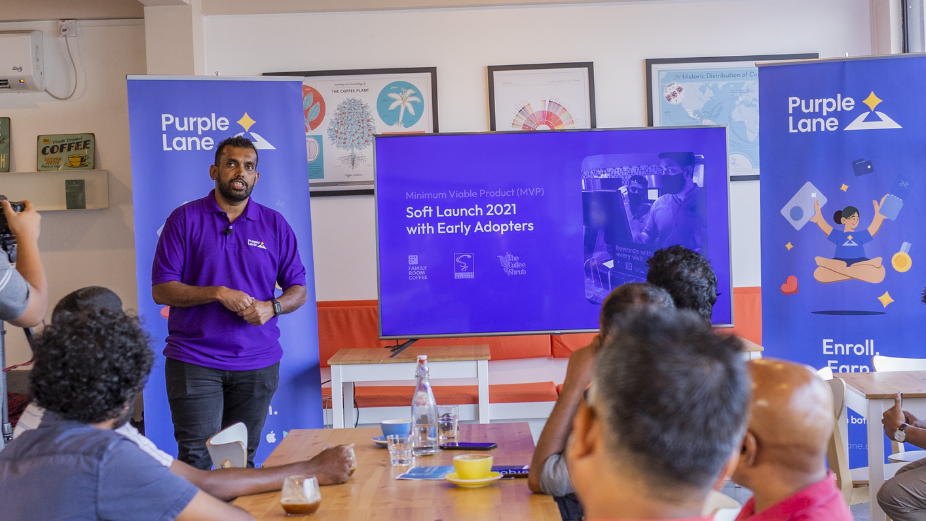 PurpleLane App, a locally conceptualized revolutionary startup, is working towards changing the game of how customers are rewarded by their favorite brands through an effective loyalty program which offers deals and new perks to their members was launched in a special event with early adopters of the product attending the event.
PurpleLane App is a Rewards platform founded and established by four founders during the pandemic. The product was initially launched in mid 2021 with early adopters like Family Room Coffee, The Coffee Shrub and Seahouse Cafe with minimal features. After a year of testing and validating the product, the customer mobile application was officially launched today in a special event. The new launch brings additional features on top of the already tested and loved features.
PurpleLane App is a one stop rewards and corporate card aggregator that brings all your cards into one single mobile phone app.
Partner stores can roll out their customized rewards program with a few clicks while businesses and corporates can instantly integrate existing programs securely.
Partner Stores can roll out and start rewarding customers by giving them reward/loyalty points every time they visit. The points can be redeemed based on customized terms and conditions by the store.
Members can transfer points among other members within a partner store.
Members can steal amazing deals and grab limited coupons from their favorite partner stores.
Members can follow each other, check-in, comment and socialize within the app and most importantly be the mayor of your favorite store and earn additional perks.
Members can gift cards to their loved ones on special occasion or as a giveaway
Umar, co-founder of PurpleLane App said that the core belief when they wanted to digitize the rewards program was to ensure that businesses are able to convert any walk-in customers as their regulars with better tools and ensure there is a continuity in their engagement. They believe that the core functionality of this product is to learn customer behavior and how businesses can adapt to these to give a better service to their customer and ensure that they are loved and respected.
PurpleLane App early adopters highlighted how the product has been helping them in engaging with their customers and also understanding their customer segments. They have been able to make better business decisions after they started using the PurpleLane app and those who have been using EwityPOS have talked about how easy the integration is with PurpleLane. Early adopters equated the product to filling a large gap that was existing between them and their customers and how easy and convenient it is now to connect with their customers.
The businesses who have rolled out the app have been getting insights leveraging on the customer data and analytics, which helps them to keep a closer connection with their customer, incentivise them and offer special offers to them through the product. The platform is designed to help both the business owners and their customers simultaneously so that they grow together.
Jinan, co-founder of PurpleLane highlighted that the product is developed for integration with any POS vendors, who are looking to roll out the Rewards Program to their clients. At the moment, points can be added and redeemed with the integration and more API endpoints would be released for POS to give a total solution of the platform including coupon redemption and issuing gift cards.
Download the PurpleLane app now from Google Play Store or Apple Store and for more information visit www.purplelane.app