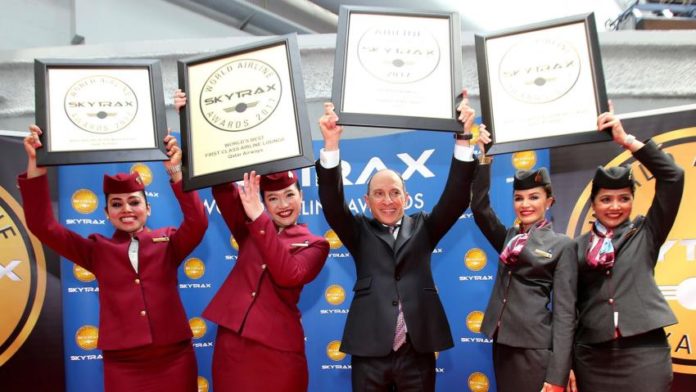 Qatar Airways has reclaimed the top spot in the 2017 Skytrax World's Best Airline rankings despite the decision of several Arab countries to ban the Doha-based carrier from using their airspace.
"At these difficult times of illegal bans on flights out of my country by big bullies, this is an award not to me, not to my airline, but to my country," Qatar Airways Group Chief Executive Akbar al-Baker said at the Pair Air Show ceremony on Tuesday.
Qatar Airways also took home several other awards at the ceremony, including Best Airline in the Middle East, World's Best Business Class and World's Best First Class Airline Lounge.
The airline previously won the title of the World's Best Airline in 2011, 2012 and 2015.
On June 5th, Saudi Arabia and allied states cut all ties with Qatar disrupting trade, split families and raised fears of military confrontation in the Gulf region.
Despite the blockade, Qatar Airways continues to forge ahead with their ambitious plans for growth. Qatar Airways is set to launch their new Business Class product: QSuite. The first of the airline's aircraft to be fitted with the seats is set to launch on the Doha to London Heathrow route on the 25th of June 2017.
According to Qatar Airways, they are largely unaffected by the boycott decision, operating some 1200 flights in the first week of the crisis, 90 percent of which took off within 15 minutes of their scheduled departure times. Earlier this month Qatar Airways announced profits of $540 million in the last fiscal year.