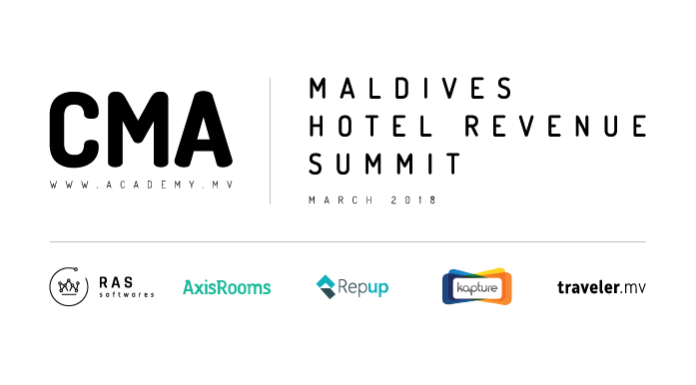 Hosted by Corporate Maldives Academy (CMA), Maldives Hotel Revenue Summit is scheduled to be held on the 24th of March 2018. The summit is expected to bring the tourism industry together through leaders and practitioners to examine forces impacting hotel businesses, changing buying habits of today's customers and fast evolving revenue sector dynamics. This hotel revenue focused conference will help hospitality industry leaders to optimize revenue opportunities and market potentials.
Maldives Hotel Revenue Summit is presented by traveler.mv, Axis Rooms, Ras Software, Repup and Kapture. The event will bring together technology vendors, how-to thought leaders, and sales and marketing teams together to connect and learn about the power of Data & Automation in the Sales and Marketing world.
The summit is entirely free for all registered tourism establishments. Strictly one individual per establishment basis.
Registration deadline is 10th March 2018. To register please send an email to training@academy.mv.
For more information please follow our event link on facebook: https://www.facebook.com/events/827069954151526/