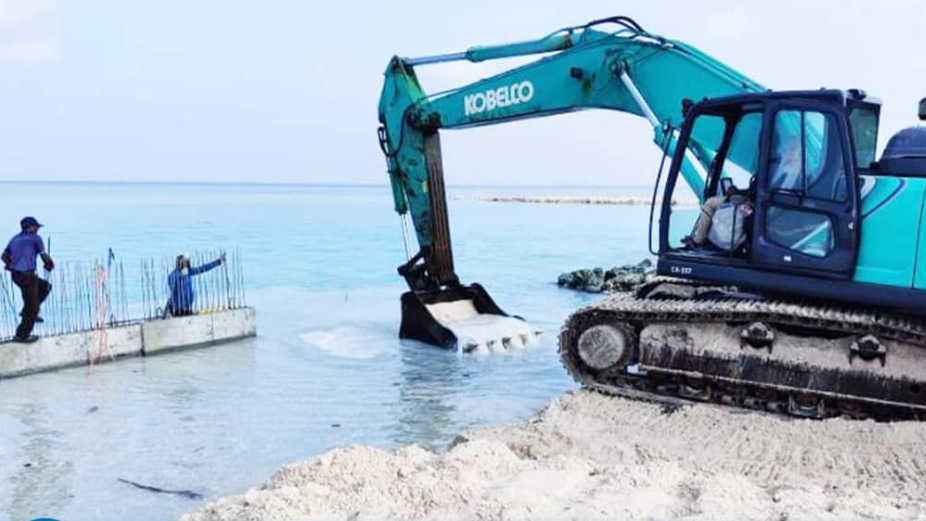 The Sh. Maaungoodhoo Harbour Development Project, aimed at improving the infrastructure of the harbour, is making significant progress.
According to the project contractor Maldives Transport and Contracting Company (MTCC), concrete block installation for quay wall construction commenced on April 18th, 2023. Additionally, the third shipment of concrete blocks has been successfully shifted to the project site, marking a significant milestone in the project's timeline.
The scope of work for the Sh. Maaungoodhoo Harbor Development Project is extensive, involving various dredging operations and construction activities. The project includes dredging operations of 59,013 cubic meters, as well as channel dredging operations of 3,245 cubic meters. Furthermore, the construction of a 362-meter breakwater, a 312-meter quay wall, and a 105-meter revetment are underway. Additionally, the installation of 1,509 square meters of harbour pavement, the construction of a ramp and concrete jetty, and the installation of harbour lights are part of the project's scope of work.
The project's total value is estimated to be MVR 56.33 million. As the project progresses, it is anticipated to bring about positive changes in the harbour's infrastructure, benefiting the local community and boosting economic activities in the region.