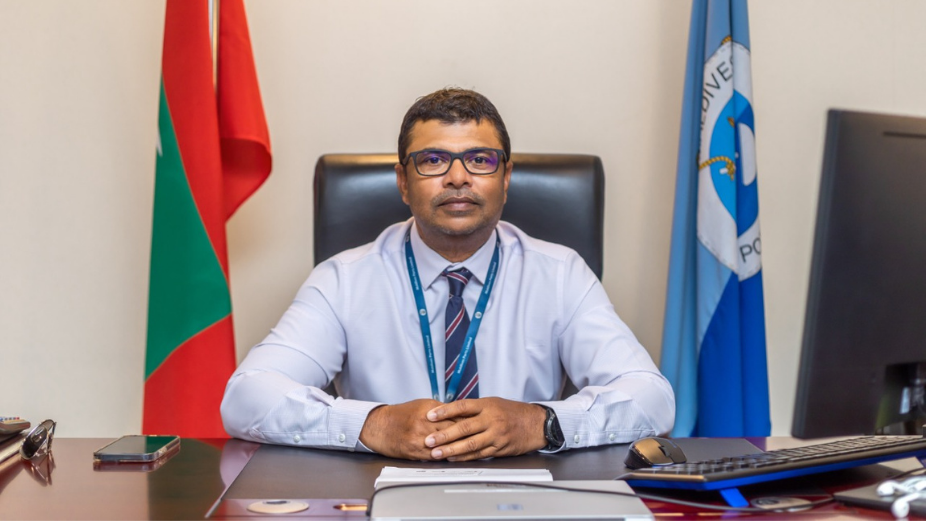 Mr. Shahid Ali is the Chief Executive Officer of Maldives Ports Limited (MPL), the sole authority on port related businesses in the country which manages all the regional ports. Our team sat down with Mr. Shahid to delve deeper into MPL's operations.
Could you give a brief explanation of MPL's notable operations?
The primary mandate of MPL is the operation of ports, mainly at the Male' Commercial Harbour. As the Maldives is a 99 percent imports-based economy, the main entry point for this is MPL. This includes both air freight and sea freight components. Sea freight makes up about 90 percent of imports, so the majority of these imports arrive at Male' Commercial Harbour. As part of our core operations, our team undertakes various roles such as offloading goods, clearing them, and safely getting them within reach of their respective owners.
The Commercial Harbour includes the Male' Port as well as the Hulhumale' Port. Furthermore, MPL operates three more regional ports, and hopefully one more will be added in the near future. These ports include Kulhudhuffushi Port, Maamigili Port and Hithadhoo Port. The port currently in its development phase is the Thinadhoo Port, which will be completed within the next few months.
The prevalent COVID-19 pandemic has disrupted the global economy in various ways. How has it affected MPL's operations?
The safety of our staff is one of our highest priorities. As such, many changes were brought to our operations. Firstly, we made it so that administrative employees, or in other words, employees working desk jobs were able to work from home instead. With the exception of workers who are essential to the field, we prioritized work-from-home opportunities for other workers, including elderly, high-risk individuals. With the establishment of a virtual network, departments such as reception, finance and so on were moved online. Staff members were provided with connectivity and necessary devices such as tablets to be able to work efficiently from home.
Additionally, to limit the number of people physically coming to our sites and building, we collaborated with our partners and agents to fast-track the establishment of digital alternatives for many of our processes. Applications, payments, and submission of documents and forms were all moved online.
Lack of space and resources poses challenges to MPL. What has been done to increase the capacity for better service?
The Male' Commercial Harbour, due to the location and lack of space in Male', is constricted from either side with no room for expansion. Hence, we decided to better utilize the space in our Hulhumale' site, especially for the storage of empty containers. In 2019, we completed the pavement of the Hulhumale' yard area to move the aforementioned operations there. While this is not a total solution, it did ease the challenges faced by lack of space to a certain extent.
Additionally, to carry out port operations, special equipment and heavy machinery is needed. Some of the equipment was run down needed major repairs, and so, in 2019 we overhauled and repaired the existing machinery to bring it up to a higher standard. Certain equipment which we were lacking, we immediately ordered and added to our fleet in 2019. This includes 20 forklifts, 2 barge handlers and 4 terminal tractors.
What are the current projects MPL is working on to establish more ports locally?
As previously mentioned, of the regional ports, MPL operates three: Kulhudhuffushi, Maamigili and Hithadhoo. We also have development plans for the ports in Kulhudhuffushi and Hithadhoo which outline the various upgrades that they need.
Thinadhoo Port is now in its development phase, and progress is well underway. We expect that within the coming months, works will be completed and the port will be operational in the near future.
MPL employees are in high-risk jobs where safety-related incidents often take place. What is being done to minimize the risk of workplace hazards to your staff?
The most important code that we have to comply with is the ISPS code, which is an international standard outlining the minimum security arrangements for ships, ports and government agencies. We routinely review and audit our operations to ensure whether we are operating to this standard, and continually improve and work on areas in which we are falling behind.
At the moment, due to lack of space, our operations must be done within a very confined and constricted space. However, with the upcoming development of the Gulhifalhu Port, I believe it would greatly ease the issues faced with regard to space, thereby improving workplace safety and security for our staff.