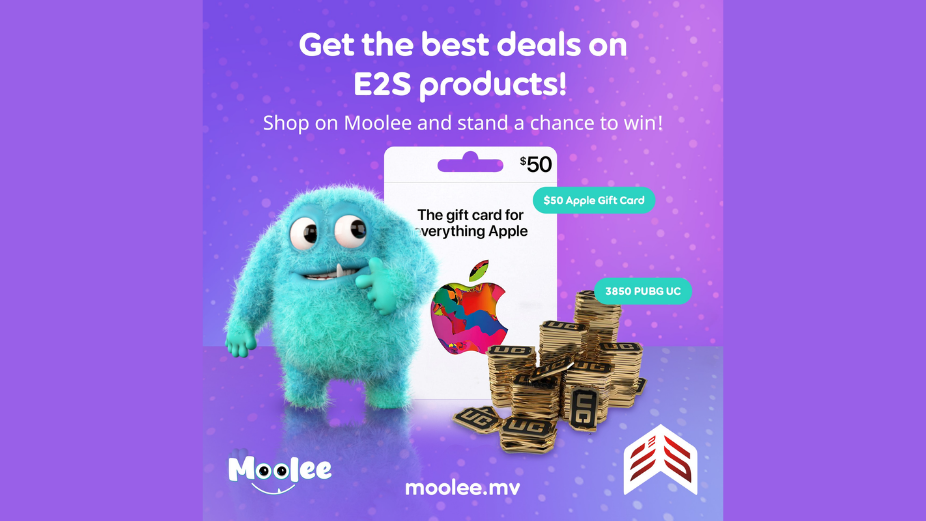 E-commerce marketplace platform Moolee has announced an exciting promotion, where customers can stand a chance to win a prized Gift Card for Apple or 3850 PUBG UC.
Customers who buy any E2S product via Moolee before 28th February 2022 and stand a chance to win a gift card of USD 50 for everything Apple or 3850 PUBG UC.
Moolee will be selecting a lucky winner for each gift. One lucky winner among the shoppers will receive the Apple Gift Card while the second lucky winner will receive 3850 PUBG UC.
E2S have a range of Digital Cards that can be used for Netflix, Apple platforms, PlayStation, Microsoft and more. Furthermore, E2S also offers customers Gaming Currency for PUBG and Robolex via Moolee.
Gaming Currency: https://www.moolee.mv/categories/61d158a49b8b6f503e04cc7e
Digital Cards: https://www.moolee.mv/categories/61d1592f9b8b6f503e04cc7f
Moolee connects customers from all corners of the nation to a wide range of quality products with FREE nationwide delivery. Moolee invites customers on any network to visit the platform for an exciting, fun yet a safe shopping experience for customers near and far.
To check out the array of products available on Moolee, visit https://www.moolee.mv/