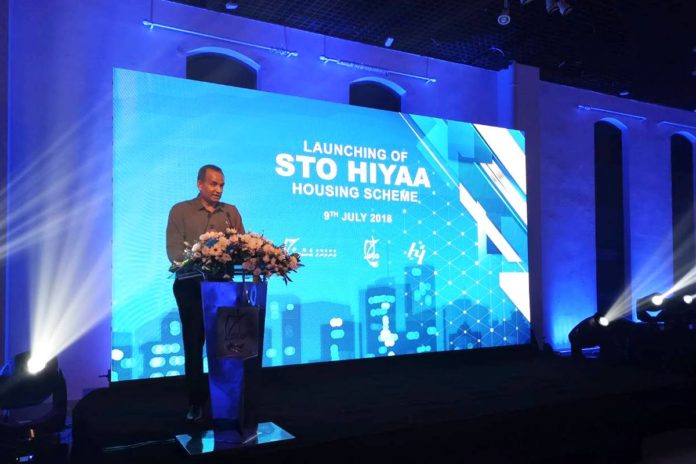 State Trading Organisation (STO) opens up applications for employees to apply for the company's affordable housing scheme.
The housing scheme was launched by Chairman of STO, Hussain Salim, together with the Managing Director of the company, Ahmed Shaheer.
STO stated the foundation for the two towers have been laid in February 2018 in the Second Phase of Hulhumale'. Applications for the Hiyaa housing scheme has been open from 09th of July for all staffs. STO will be accepting applications for two weeks from the date of announcement.
The state-owned company has allocated 304 apartments for it's employees which includes 68 one-bedroom apartments, 36 two-room apartments, 144 units of two-room plus maid room apartments and 56 premium category apartments which consists of two bedrooms plus a maid room.
Estimate value for the apartments range from MVR 971,460 for one room apartments, MVR 1,375,200 for two room apartments, MVR 1,598,400 for three room apartments and 1,795,200 for premier apartments.
STO assures that in the unlikely event that the value goes higher, it will not increase beyond 5 percent. Additionally, to provide the best financing options available for it's employees, STO will be providing four different financing options. Whilst the down-payment for the apartments is set at 10 percent, employees will be provided with the option of settling the payment with a 2-year installment option.
The company believes that a lot of employees and their families will benefit from this housing scheme as it is not only affordable but flexible as well. The Hiyaa housing scheme was inaugurated on November 2017.