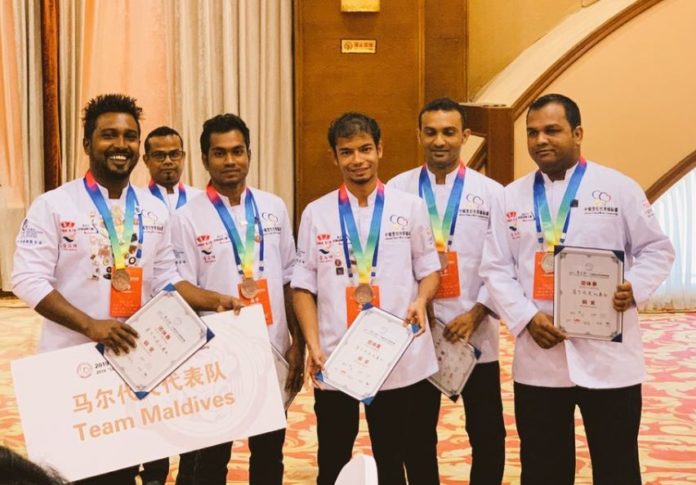 Team Maldives has won a bronze medal at the China Cuisine World Championship held at Shenyang, China from 21st-24th August.
Launched in 2015, the Chinese Cuisine World Championship (CCWC) by the China Cuisine Association is an international level competition which aims to build a platform to promote the exchange of Chinese and Western cuisine and the development of Chinese cuisine worldwide.
Over 300 culinary elites forming 24 teams worldwide participated in the 2019 China Cuisine World Championship.
Six Maldivians Chefs took part in this event including Mohamed Adil from Faarufushi Maldives, Ahmed Mazim from Four Seasons Maldives at Landaa Giraavaru, Riffath Mohamed from Kuda Bandos, Ibrahim Nathif from Baros Maldives, Ahmed Fatheen—the owner of Oishii and the culinary consultant Ibrahim Naeem.
This year's event also hosted the first Maldivian full-time judge for the CCWC, Chef Ismail Solih.
Chefs Guild of Maldives was launched in 2014 and is open to anyone who is working as a chef in the Maldives. Members of the guild have participated in national and international exhibitions and competitions and have won numerous accolades.