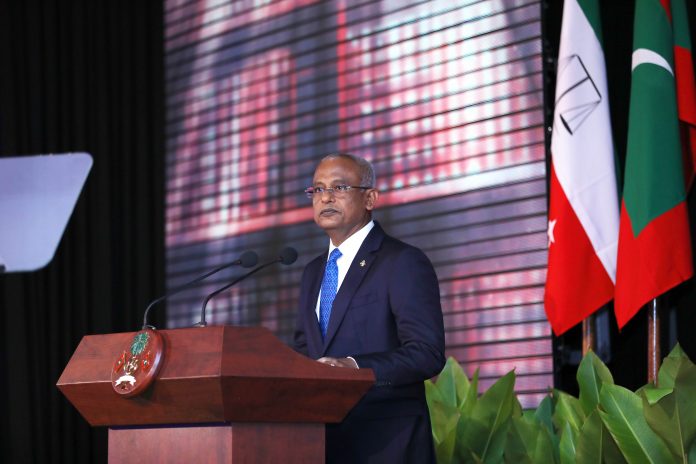 President Ibrahim Mohamed Solih has stated that since assuming office, his Administration has accorded the highest priority to ensure the establishment of a fair and just judicial system. He further stated that this Government will not and has no intention to attempt to influence the judicial system in the Maldives. The President made this statement at the opening ceremony of the Judicial Year 2020.
Speaking at the ceremony held in Dharubaaruge this evening, President Solih noted that the courts have restructured their administrative workload to cater more convenient and efficient services to the public.
Continuing, President Solih underscored the important roles judges and courts play in solving critical societal problems arising in the country. He further stressed on the importance of establishing justice in a well-timed manner without adjournment. The President urged judges to give special consideration in passing out verdicts, especially in cases of child abuse. He also shed light on the resolution passed by the Department of Judicial Administration where any case regarding sexual abuse in children will be administratively dealt with within 24 hours of the problem being reported and in instances where it takes no longer than 48 hours in between two hearings. He also stated this arrangement will enable the courts to pass out verdicts within six months of reporting the offense in the courts.
Moreover, President Solih stated that he believes that relevant laws need to be amended in order to fully reform the judicial system. He elaborated on the steps being taken by the government in evaluating the laws and identifying the necessary modifications that need to be brought to the constitution.
The President also shared future developmental plans in bringing all the courts in Male' except the Supreme Court under the same roof in Hulhumale' and solving further difficulties faced by courts from land scarcity to resources.