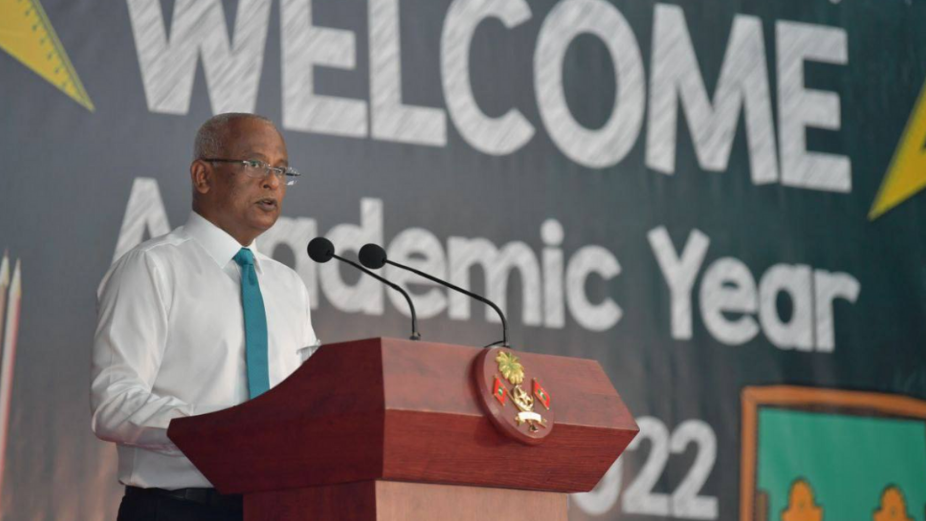 President Ibrahim Mohamed Solih stated that the Maldives has now successfully reached a new normal, as signified by the reopening of schools and the resumption of regular work hours at offices and businesses. Speaking at Rehendhi School's Special Assembly, held this morning to mark the beginning of the new academic year, President Solih emphasised that despite reaching this new normal, we should remain vigilant against new Covid-19 virus variants.
Speaking at the special assembly in Hulhumalé, President Solih counselled parents, teachers and students to carefully follow all Covid-19 control measures, and to work together to maintain the momentum established in curbing the Covid-19 virus in the country. He recognised that many children had been disappointed since they were not permitted to physically attend school during the previous academic year due to the pandemic, and advised pupils to make the most of this opportunity with a positive outlook.
The President wished all students a successful, pleasant and productive academic year. Furthermore, he encouraged students to strive to overcome any obstacles to learning and endeavour to become productive members of the society and to make their parents and family happy and proud.
President Solih acknowledged the immeasurable contribution of teachers to the nation, affirming that the state recognises the hard work of education sector employees. He announced that the government is working on revising the remuneration structure for the education sector and providing salary increments from next year's budget. According to the President, teachers carry out one of the government's most significant pledges – human resource development. He also emphasized the necessity of providing greater incentives for educators, as they are the key to imparting the ideals that would address the most pressing societal issues we have today.
The President further highlighted the importance of the public's readiness to participate in the Covid-19 vaccination program. He reiterated the government's objective to vaccinate all adolescents aged 12 to 17 years old, revealing that the goal is for the first dose of vaccinations for this age group to be completed by the end of this month.