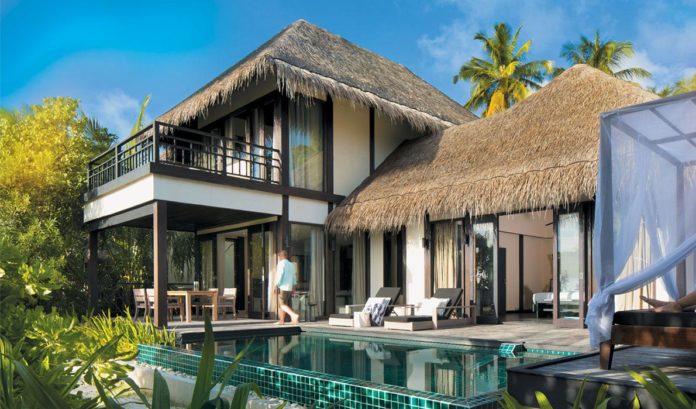 The stunning 53 all-pool villa resort in the south of the Maldives has wowed visitors since it opened in August 2015. The award "honours the 'best of the best' in the travel industry," said Travel Weekly Asia Group Publisher, Irene Chua.
Outrigger Resort Vice President Sales & Marketing, Mark Simmons, received the award on behalf of the property at the Readers Choice Awards ceremony in Singapore, 17 October.
The General Manager of the resort, Mr John Allanson, said: "Outrigger is very proud of the latest accolade for the Outrigger Konotta Maldives Resort. We dedicate it to our hard working hosts who treat all guests as part of the Outrigger family."
Comprising 29 Beach Pool Villas, 21 Ocean Pool Villas, two Lagoon Pool Villas and the masterful three-bedroom Grand Konotta Villa, the Outrigger Konotta Maldives Resort offers a complete sense of privacy and intimate luxury. The Outrigger has the largest average villa sizes in the Maldives.
Each winner in the awards was voted for by Travel Weekly Asia readers, a group comprising professionals from different specialities and expertise within the travel industry.
In December 2015, the Outrigger Konotta Maldives Resort also won the "Luxury Contemporary Resort of the Year," in the Luxury Travel Guide Global Awards.
Outrigger was also hailed for the way it went about acquiring the resort. In October 2015 the property won first place for Single Asset Transaction of the Year in the Hotel Investment Conference Asia Pacific Deal of the Year Awards.
The private island of Konotta is located 211 miles (340 kilometers) to the south of Malé and is accessible via a 55-minute flight from Malé to Kaadedhdhoo Airport followed by a scenic 30-minute journey on a luxurious private speedboat.
[extracted from incentivetravel.co.uk]