The Maldives Marketer's Forum, which was organized by Corporate Maldives Academy (CMA) in association with MNU Business School, has concluded successfully on 2nd March 2019 with over 200 participants in the Marketing industry. The MNU Business School auditorium saw a packed audience, who were taught about many different aspects of marketing in the digital world.
The forum was organized with the aid of Title Partner Koo.mv and co-partners Allied Insurance, Symphony Maldives, RAS ERP, M7 Print and Champa Central Hotel.
The event was commenced with a speech by the CEO of CMA, Mr. Ilyas Haneef, followed by inspiring words from the Dean of MNU Business School, Mr. Abdul Rahmaan Mubarique who commented on the importance of digital marketing and how it has become an essential part of our society. Shortly thereafter, the Chief Guest of the forum, Minister of Higher Education, Dr. Ibrahim Hassan talked about the importance of such a forum on quality higher education in the Maldives and appreciated the efforts of the Academy on doing such critical work towards educating the Maldivian Youth.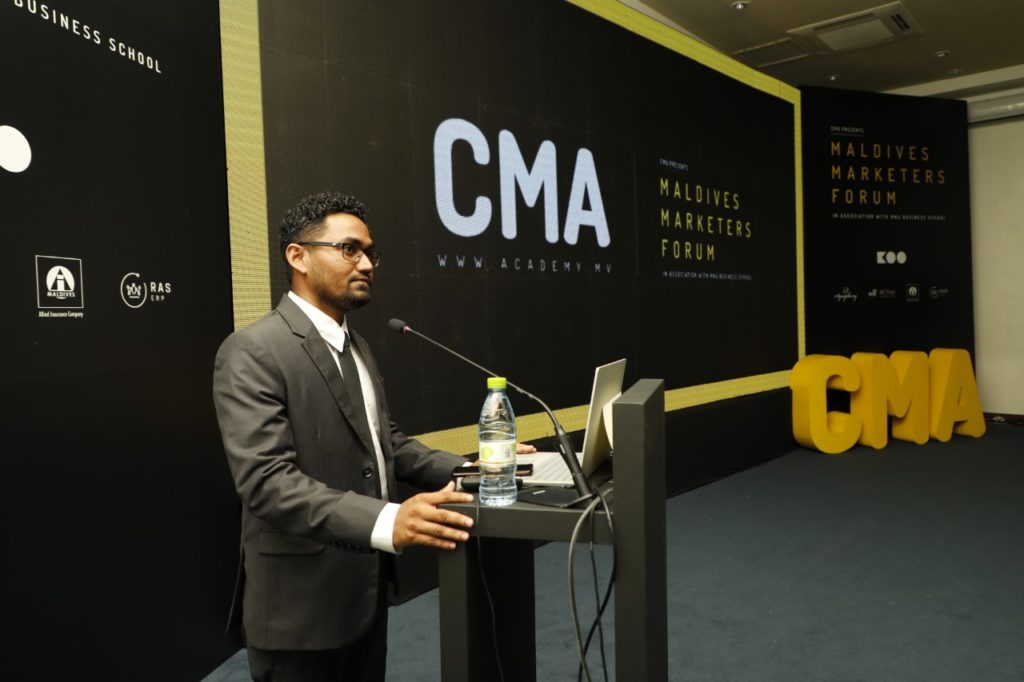 The First Panel Speaker, CEO of Laniakea Trade, Mr. Fraath Mohamed spoke about how to grow your business online and shared statistics and knowledge about E-commerce in Maldives. "E-commerce is the fastest growing retail market projected to hit $4.135 billion in sales in 2020 on a global level," stated Mr. Fraath. "E-commerce in Maldives is a 15 billion rufiyaa industry and is expected to keep growing in the coming years."
He was then followed by Director of Marketing and PR in Highrise, Mr. Ismail Hameed who took the audience on a short journey in International Event Management while working in the company and shared many inspirational quotes to motivate the audience. After a short snack break, the next Panel Speaker, Co-founder of LottieFiles, Mr. Nasrulla Adnan who spoke about thinking and growing globally using online platforms.
After the speech of Mr. Nasrulla, the only Female Speaker in the Maldives Marketer's Forum, Ms. Onalie Dissanyake, Education Manager of CIM in Sri Lanka shared her wisdom in the importance of CIM in Marketing. The Chartered Institute of Marketing (CIM) is a United Kingdom-based professional body offering training and qualification in marketing and related subjects, focused on marketing and sales for business; together with ongoing support for members. After Ms. Dissanyake's informative talk, Mr. Daniel Diosi, Owner of dCommerce Hotel Consulting, gave information on how to take social media advertising to the next level.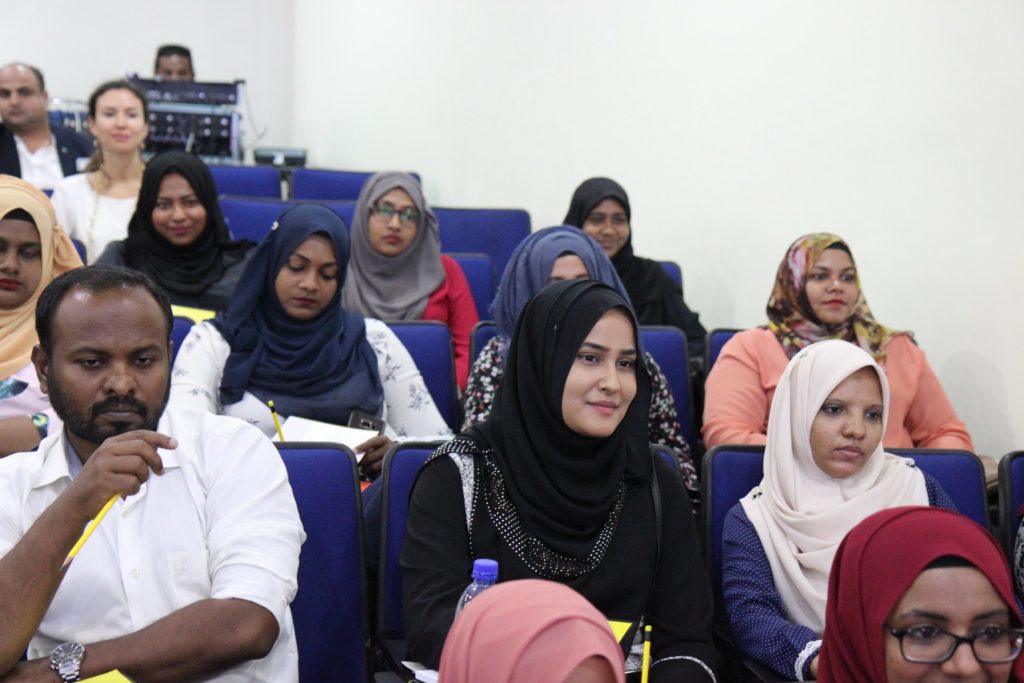 The next Panel Speaker, Mr. Mohamed Roshan, Managing Director of Marketeers & Co. launched the ISIC card in Maldives and explained about the ISIC card which is to be brought in to the Maldives through Laniakea Education, the parent company of Corporate Maldives Academy. After a refreshing lunch break, Mr. Thushan Shamugarajah, Co-founder of findmyfare.com shared his wisdom regarding the role of digital marketing in the travel and hospitality industry. Mr. Alain Parizeau, Designer at Public Works, gave an informative session on branding ideas within consumer culture.
The last Panel Speaker, Mr. Niushad Shareef, Marketing Manager at Allied Insurance shared information regarding the evolution of digital marketing in Maldives. The forum concluded with a pleasant tea time, allowing participants to network and form relationships with industry personnel. CMA hopes that the Third Edition of Maldives Marketer's Forum is even more successful than the second.