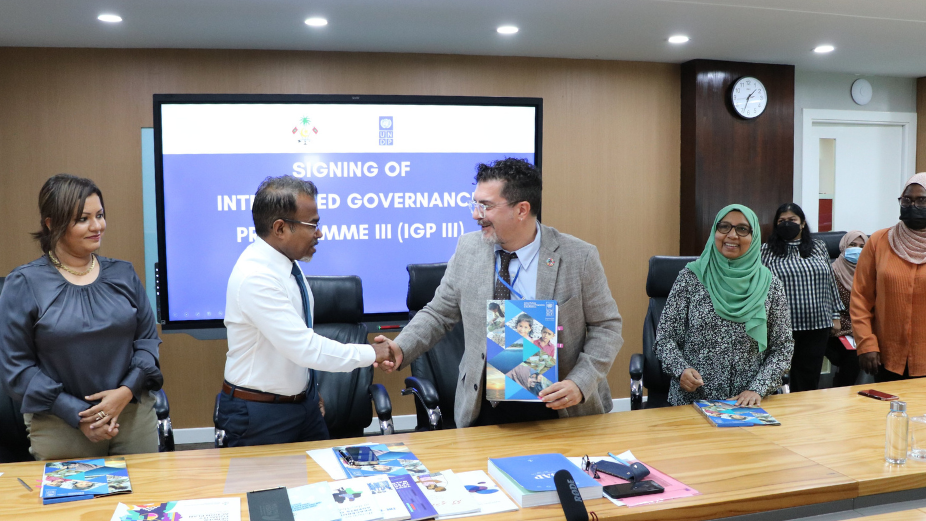 The United Nations Development Programme (UNDP) in the Maldives has signed the new five-year Integrated Governance Programme.
The new Programme is designed towards harnessing the power of citizen-led open democracy, especially based on principles of human rights and gender equality, through digital transformation and anticipatory governance, while enhancing independence, transparency, and accountability of the governance and justice system. The overarching goal of the Programme is to instil democratic, sustainable, and meaningful human development values towards longer term peace and stability for the people of Maldives.
The Programme consists of a representative board from all key governance stakeholders in the country, co-chaired by UNDP Resident Representative to the Maldives, Mr. Enrico Gaveglia, Attorney General His Excellency Ibrahim Riffath, Minister of Gender, Family and Social Services, Her Excellency Aishath Mohamed Didi and the Chief Executive Officer of the Local Government Authority (LGA), Ms. Afshan Latheef.
"IGP Phase III is a substantial expansion of the joint efforts of AGO and UNDP, towards realising our mutually shared goals of a just, equal and stable society. Whilst the Maldives has made progress, we shall greatly benefit from the continued support of UNDP. The programs developed will no doubt, strengthen our justice sector and civic societies in order to achieve good governance in accordance with international standards." remarked Attorney General Ibrahim Riffath at the ceremony.
Through the two previous consecutive Integrated Governance Programme cycles, UNDP with the Government's strong commitment has been able to provide dedicated need-based support towards consolidating democracy in the Maldives. This includes amplified efforts to reform the judiciary, and legal and justice sectors; continuous support towards creating an independent and empowered civil society and media; formative and sustained assistance to decentralisation and local governance; and a mainstreamed effort to advance the country towards women's empowerment and gender equality.
Signing the Programme Document on behalf of the Ministry of Gender, Family and Social Services, Minister Aishath Mohamed Didi stated, "The strong focus on gender as a key pillar of governance efforts demonstrates the much-needed commitment to amplify voices of women and vulnerable groups in our nation. I am keen to engage closely with development partners and national counterparts to ensure that we reach those farthest behind in our efforts, as envisaged and seamlessly aligned in our joint policy and programme frameworks"
The partnership has been focused on sustainable development in line with the global development agenda, international standards and good practice, promotion of coordination and dialogue as well as fostering community awareness and participation with the aim of contributing to long-term stability and peace in the Maldives.
"In addition to being a central intervention focus of the new Programme, 'decentralisation' is also rooted as a core principle across all areas of the Programme. LGA remains committed to enhancing and accelerating our work in empowering local communities by means of inclusive, anticipatory and locally driven innovative solutions to development," highlighted the CEO of LGA, Ms. Afshan Latheef.
Continuing this joint effort, the new Integrated Governance Programme has three main priority areas of cooperation and focused outputs:
Establish open, decentralised, and gender-responsive governance systems,
Enable equitable access to justice and human rights, and
Foster empowered, cohesive and resilient communities.
The new Programme reaffirms the long-standing partnership between UNDP and Governance stakeholders, building on several areas of support through the decades, and lays the foundation for accelerated and focused development cooperation under UNDP's new Country Programme Document for the Maldives 2022-2026.
"With the endorsement of the Integrated Governance Programme, UNDP's support to Maldives steps out in a new geometry of partnerships across government and development partners willing to accelerate results and operate at sustained scale in key levers such as data-driven, inclusive, and anticipatory governance; as well as enhanced fiscal and financing options for an effective decentralized public administration or with the creation of a new space of participation to policy making which is inclusive and caring to all," said Enrico Gaveglia, UNDP Maldives Resident Representative, speaking at the signing ceremony.