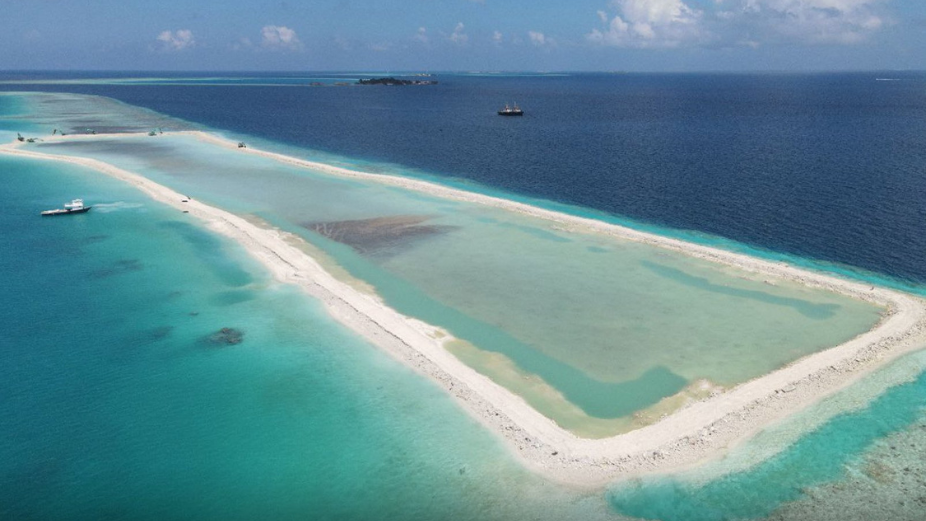 Urbanco has reported steady progress in the development of Thilafushi Phase II, with dredging operations advancing swiftly.
Dredging began in March, executed by the China-based Harbour Engineering Company Limited. The endeavour aims to transform Thilafushi in Kaafu Atoll into a prominent industrial hub. Operations in Areas C and D have concluded, with a successful reclamation of 28 hectares. The company is now focusing on other zones, targeting to reclaim 72 hectares in Area A, 40 hectares in Area B, six hectares in Area E, and 0.7 hectares in Area F.
Project Manager Hussain Hanan Ahmed from Urbanco revealed that two zones have been reclaimed, and the commencement of shore protection structures is on the horizon. He anticipates the reclamation of the remaining areas by May of the forthcoming year.
As part of the Thilafushi Master Plan, Urbanco aspires to reclaim a total of 150 hectares, with the intention of offering 60% of these land plots to businesses. Presently, Thilafushi houses over 200 enterprises. Initially reclaimed in 1991, the Thilafushi lagoon served as a waste management site and has been expanded several times to reach its current 100 hectares. The 2016 reclamation project added an additional 22 hectares. With substantial portions of Thilafalhu yet to be reclaimed, the government's vision is to establish this area as an industrial cornerstone.
Urbanco's current responsibilities encompass the dredging, reclamation, and shore protection of the 150 hectares demarcated as Thilafushi Phase II. This area will be segmented into six distinct zones, accommodating both major and minor industrial activities. A portion will be dedicated to a liquified natural gas plant, while other sections are earmarked for mixed offices and small-scale businesses.