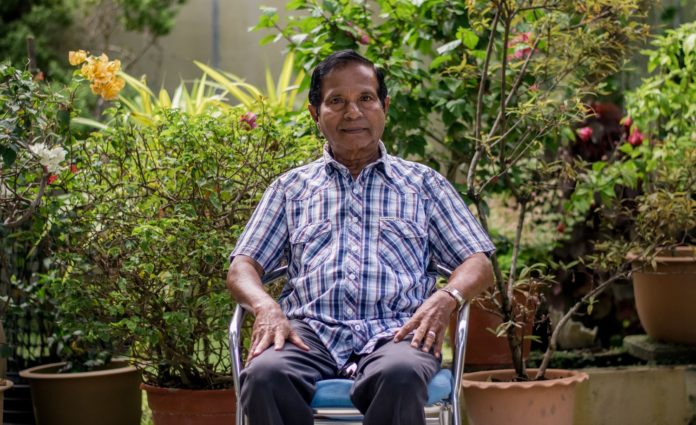 How did you get started?
It began as a simple dream when I was very young. My father, Soaru Ibrahim Manik, owned and managed a bakery in Male' during the early 50s. It was called "Blue Bakery" and it was a very popular bakery due to its prime location on Marine Drive street.
Best of all, it wasn't just a bakery! Apart from selling buns, faaroashi, and breads for evening tea, the bakery doubled as a café. Everyone, including the elites of the Maldivian social scene back then, visited the bakery for the great company, good conversation, and, of course, the great service and food. Even then, I was mesmerized by my father's humbleness as he attended to his duties as the host, taking care of the patrons' requests. I observed how my father easily warmed up to and made friends with everyone who arrived in his shop; no one remained a stranger for long and everyone was treated with the utmost respect and care.
However, things took a turn for the worse when my father had to shut the bakery down on the request of the landowner, who wanted rebuild the place. At the time, my father was the sole breadwinner in a family of eight. With the business gone, his financial situation grew dire, eventually forcing him to join the government. He passed away when I was still very young but his work ethics, the humble lifestyle he pursued and the encouragement he gave me stayed, and molded me into the person I am today. His passing compelled me to leave school and join the National Security Service. I served the government for 20 years but even then my dream of starting and owning a restaurant remained alive and I never wavered in my resolve. I was determined to continue what my father had begun.
With the support of my family and my wife Haseena Ibrahim, we slowly started the work of turning the dream into reality. Even from the beginning, my wife's steadfast commitment to my vision was humbling. She was my rock, providing me moral support throughout. As it usually happens with starting any new business, we started having financial difficulties straight out of the gate, and my wife took over the job of managing the home finances to help keep us afloat and achieve the necessary funds to get the company up and running. After saving the required amount, we started the actual work of building Symphony. We were both actively involved in every aspect of the creation of the restaurant. Finally in 1990, with seven tables and a good assortment of select food items (which we firmly believed in) Symphony Restaurant was open for everyone. And the rest, as they say, is history.
What do you consider your biggest successes?
Whatever you do, that which gives you a good return in the long run is considered a success. In business, it will be your products and product delivery style. If that is sustained then it is a good business model. As the owner, no one else will have the same vision you have for your business. With Symphony, I wanted to set standards for a restaurant experience that would elevate customer satisfaction, and at the same time create a brand that gleams the hospitality industry. Managing Symphony so that it reached my lofty expectations required everyone to become masters at their job. The entire process of managing the restaurant was like watching a master course in showcasing excellence in every department. Everything was monitored closely, scrutinized personally by me at every stage. Food consistency, cleanliness, plating, service, delivery, nothing was left unattended. All this required good team players who worked in unison and followed orders to the letter, and I managed to assemble and develop exactly the team I needed. Seeing a group of individuals transform in to a much disciplined workforce dedicated to serve is success. To attain that business culture took time and hard work, at times become overly critical, yet the end result was splendid.
During my governance, I did not spend on Marketing and Advertising. As a matter of fact Symphony Maldives is a very human resource oriented company. I believe taking care of the people working for me, and observing customer needs, everything else will come in to place.  It just worked through word of mouth back then. My customers were my most important advertising and marketing tool. I did not open Symphony for a specific segment, Symphony is for everyone and that will not change.
All the aspects that I monitored ever so diligently struck a chord with our customers, resulting in a unique and easily recognizable brand loved by all and spanning generations. The "Never Changing Symphony" is a slogan given by my customers, and that is success.
Let's talk about some of the notable challenges you've faced.
Seeing how your children manage the business at first was a challenge as it created a lot of friction between the team I had back then. The new management team back then, enforced a lot of changes. There was a huge generation gap between the new management and staff, and some even refused to take orders. If I had not given my children a chance to manage, they would have never learned. So I just watched how they tackled the first challenge to make the company digital. There were few resignations, however, the new management showed the new phase of Symphony in terms of productivity and efficiency in work model, which gained their trust and proved their expertise to manage effectively – same business vision with an advantage of business growth using the latest technologies and skills.
Business penetration was easy with little to no competition back when I started. Now, it is a different story. There is now fierce competition from every side and market behavior has changed drastically.
Creating our very own brand like "Crystal Sands" coming up with branding concept, and building with an eclectic design that does not disrupt the authenticity of our own was a challenge.
Customer needs have not changed much during the past two decades. Good food and great atmosphere is always in style. One key ingredient to add in these days is innovation. Innovation needed to surprise the customers. Customer lifestyles and behavior have changed, and so we adjust and adapt accordingly without destroying the authenticity and vibe of the original restaurant that all happens to be very much fond of.
What do you do differently from your competitors?
As I mentioned earlier I manage and monitor all aspects of the business. To successfully own a restaurant, you have to be involved in working at the restaurant and actually enjoy it. You cannot simply do it to make money. All in all, it takes a lot to own a successful restaurant. You have to be willing to work long hours, deal with a lot of different types of people, and most importantly actually enjoy and be proud of it. Hospitality is more than a field; it is a discipline. One needs to start from the very basics and climb up. As a matter of fact, I do not focus on competitors. I look at my customer needs and plan on making things work based on my customers. One thing common all my staff will comprehend is I made a culture of "not saying no" to customers and giving them the best alternatives.
My team has implemented systems and developed algorithms to automate the monitoring of staff with the active involvement of department heads so that the staff can remain happy and motivated. Symphony is a brand with its own creations, hence even the best chefs with best culinary education, must first learn our products. The taste consistency is very much monitored before letting them work with minimal supervision.
Simultaneously managing service outlets of Symphony in remote locations is a challenge when you don't develop a good team. So I ensure I have the best teams with the common vision for the brand.

What is your advice for the young MDs and CEOs of tomorrow?
My advice to them is the same advice I give to my very own children who are currently the directors of Symphony. Keep moving forward with the changing market behavior. Don't focus on others, focus on your own business goals. Business techniques and skills that worked back in the 90's might not work at present as managing the new working class of this new generation is different than managing the working class back then. Evolve with the changing world. Embrace leadership and management as a practice to perfect your path towards excellence and develop new talents.
On a religious note, Allah's blessings comes in abundance with hard work. Have synergy with others in the industry, focus on your own enhancement and be original. One day you will know that you have done something right if people are following your trends and recipe's.