President Ibrahim Mohamed Solih has stated that in order to ensure that Maldivians acquire fair value for our fish exports, we need to have a say in deciding and regulating the export rates of the products to the international market.
He stated this at the special function held at Dharubaaruge to commemorate the 39th National Fisherman's Day 2019.
Speaking during the event, President Solih emphasized that fish products from Maldivian pole and line fishing is valuable work and has a much higher international market value. He also stated that the current fisheries export rates are determined by the international companies and that the government, along with the support from the fisheries sector investors, can work together to reform current rates and acquire fair value for the products.
"The administration will work on resolving the challenges in the sector by securing fair value for fish products in the international market," the President stated.
The President also shed light on several impediments and challenges faced by Maldivians in developing the fisheries industry. He also stated that at the inception of this administration, the condition of the fisheries sector was in a downward spiral due to inadequate policymaking from previous governments. He further stated that fish purchase capacity from fisheries companies could not accommodate the catch during the high fishing season. Moreover, the President also said that fishing vessels also had difficulties in acquiring necessities like ice, diesel and water during that time.
Emphasizing the discrepancies in the demand and supply chain, the President urged for more fisheries facility investments to accommodate the fish catch from Maldivian seas. In this regard, the President indicated that after thorough reviewing, the new fisheries policy converges on assisting and encouraging more private sector investments in the industry.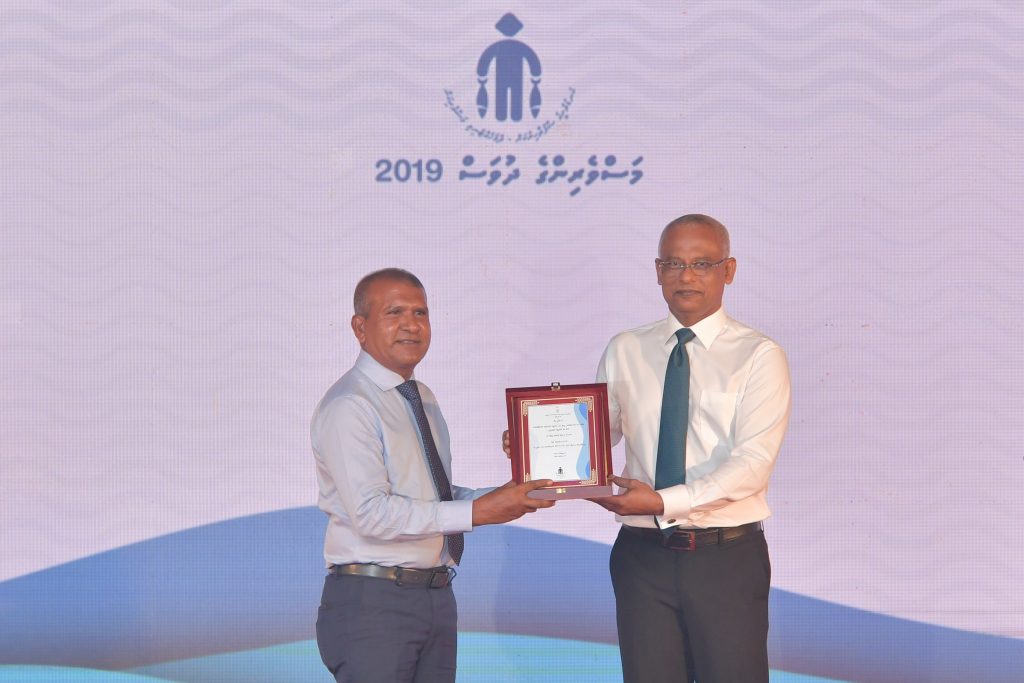 He also expounded on the major modifications have been brought to the administration's fisheries policy including the removal of exclusivity afforded to certain companies to allow other fisheries companies in the business to also purchase the catch.
"This would prevent the disposal of excess fish to the sea and increase the earnings of our fisher community," he noted.
Moreover, the President highlighted the subsidies provided to fisheries industry members and the continuing developmental projects in the industry. He further indicated that as a solution to the complaints from fisheries families, the administration has signed an MOU with the Indian government to establish mini fish factories in Addu City Hithadhoo, Maradhoo and Hulhumeedhoo.
Along with the President, Vice President Faisal Naseem, state dignitaries, and fisheries sector stakeholders attended the event. The President also conferred special awards to fisheries sector contributors during the function.