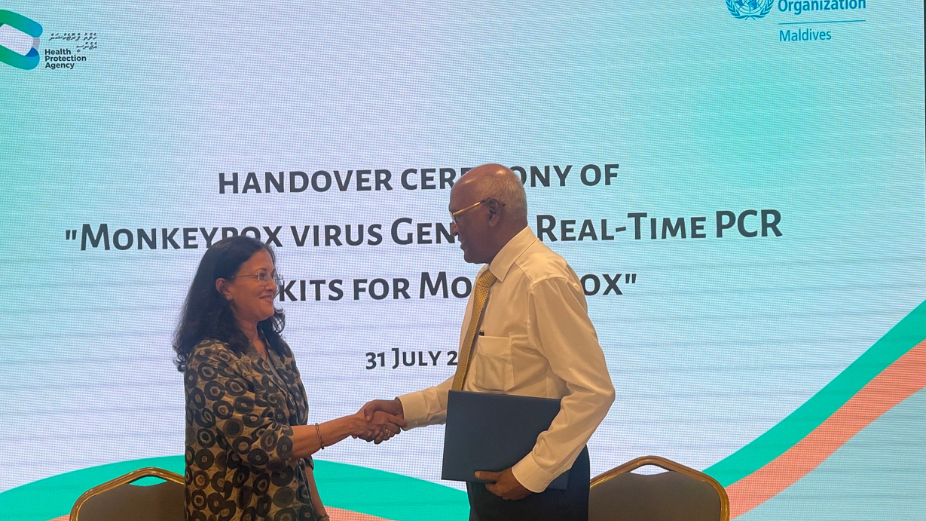 World Health Organisation (WHO) has provided 250 of monkeypox virus generic real-time PCR test kits to the Maldives.
WHO handed over the test kits to the Ministry of Health at a special ceremony held today. Speaking at the ceremony, Health Minister Naseem stated that the Maldives has been responding to suspected cases of monkeypox and have the capacity for case investigation, contact tracing, testing, and risk communications.
The ministry is also working with WHO on mobilizing more kits and will be receiving additional testing kits in a near future.
Additionally, as per the ministry, laboratory technicians will be trained on using the test kits with assistance from WHO and technicians from the largest hospitals in the Maldives will be participating in this training.
On July 23, the World Health Organisation (WHO) declared monkeypox a Public Health Emergency of International Concern (PHEIC) after stating that the rapidly spreading outbreak represents a global health emergency. The PHEIC is the WHO's highest level of alert, designed to trigger a coordinated international response and unlock funding to collaborate on sharing vaccines and treatments.