The Sixth Meeting of the Maldives-India Joint Commission was held on 13th December afternoon, at the Ministry of External Affairs of India. Minister of Foreign Affairs H.E. Mr. Abdulla Shahid, headed the Maldives delegation, and Minister of External Affairs H.E. Dr. S. Jaishankar headed the Indian delegation.
During the meeting, both Ministers highlighted the renewed dynamism in bilateral and cooperative arrangements between the two countries.
The Joint Commission deliberated on several bilateral issues of importance to both countries, including security and defense cooperation, Trade, Economic Cooperation, Tourism, Energy, Agriculture, Blue Economy, Development Cooperation, Connectivity, Communication, ICT, Health Cooperation, Human Resource Development, Education, Culture, Sports, Youth Affairs, Consular and Community Issues, Cooperation between Foreign Ministries and Cooperation in Multilateral Fora.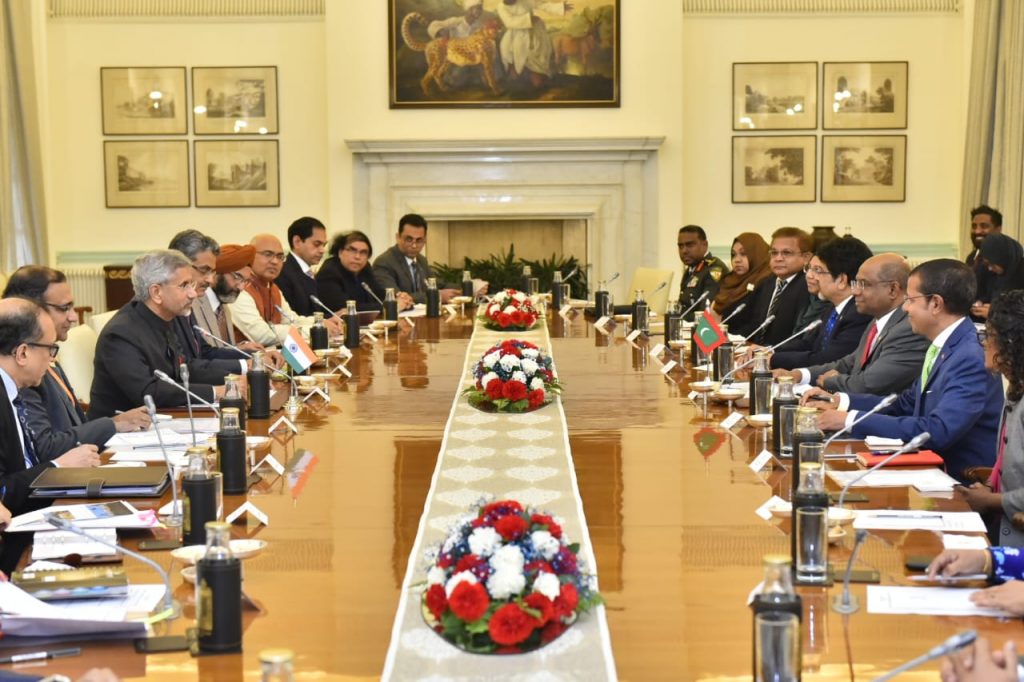 Senior officials from fourteen ministries of the Government of Maldives participated and interacted with their counterpart officials in determining the way forward on several bilateral projects.
It was agreed that the next session of the Joint Commission would be convened in 2021 in the Maldives.
Following the Joint Commission Meeting, two MoUs were also signed between the Elections Commission of Maldives and the Election Commission of India, and between the Financial Intelligence Units of Maldives and India. The Minister of Foreign Affairs and the Ambassador of India to the Maldives also exchanged the Instrument of Ratification for the recently signed Mutual Legal Assistance Treaty on criminal matters.