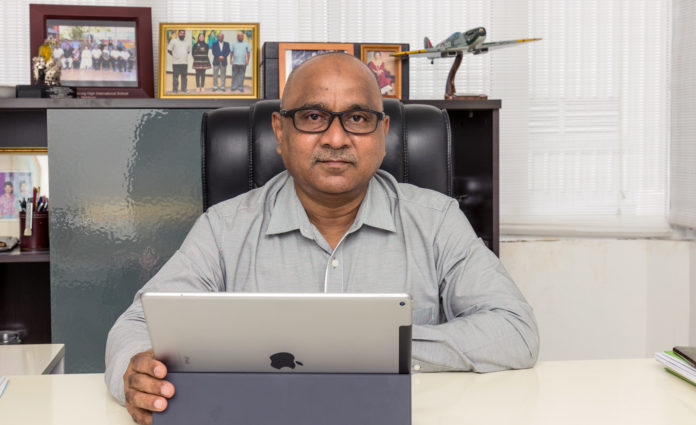 Mr. Abdul Rasheed Ali, famously known as "Makhma Absy" started doing business at an early age. His driving force is his undeterred confidence that was instilled in him from his parent's hard work and dedication. All of his plans and projects stemmed from the hardships that he and many others have face and or are facing daily. Corporate Maldives sat down with Mr Absy to talk about he started his company and made it the behemoth that you see today.
How did you start off?
When I started off, I had no capital whatsoever. All I had was the knowledge and expertise of the numerous sort of jobs my parents did at home. Having come from an island to Male' for the prospect of better education and job opportunities, it was the same amongst parents then and now to work hard and tirelessly to provide for the family. And it was this, the dedication and commitment of their work ethics that really inspired me.
Getting a job is easy, starting up or coming up with an idea is easy. But seeing through to it, working to achieve it and dedication comes from confidence. And I had a lot of it all thanks to my parents. I have done many projects and not every one of them was a success. I have encountered failures but I get back out there every time without getting my confidence hindered with an ever more desire to succeed. And the root of it all comes down from the earlier days where we worked tirelessly to provide for ourselves and our families.
I have excelled in work rather than in education. I was never an academic, but I made up for it with knowledge and expertise from the work I did. I had the desire to learn new things and to work in numerous different jobs.
One of my first jobs was at Maldives Shipping. I had always aspired to become a sailor. A man of the ocean, inspired by sea men from my family, their lifestyles and tales from their travels really connected with me. I became a certified Radio operator and applied to work as Radio Officer in Maldives Shipping. However, my superior officer at the time noticed my dexterity with numbers and finance so he asked me to stay back instead of joining the fleet. As a few years went by I had totally lost interest in become a sailor and went on to the office in Mumbai, which was the head office therein making my dream of going abroad a reality.
I was exposed to so many different things such as their culture and way of life. During my time in Bombay (Mumbai) I met many famous people, mostly movie starts as it was Bollywood, film capital of the country.  My initial interest in business began with me having worked with one of the movie stars on her performance in the Maldives. I got a unexpected commission of more than a year's worth of salary at the time from just one show for helping them out. This really got my gears going and fueled my imagination on how I could capitalize by changing from a job to a business. This was in 1978 I was barely 20 years old and was really getting into the idea of running a business.
When it came to my company Islanders, appropriately named to commemorate the fact that my parents came from an island and have it here and to shine the light on thousands of people who leave their home islands and travel to the  greater Male' area for a better life.  I worked at the tourism industry for a while and I first started out with a garage and brought in three lorries. We did waste management for a while as well. I befriended an Australian with whom we developed Embudhu Finolhu and that was my gateway into the resort industry. After ten years we leased it out to Taj and now they operate the resort today.
In retail, we brought in Benetton and started a designer clothes series with a grand festive opening with a famous Indian actor coming in to opening it. We've held a lot of shows with Indian actors such as Salman Khan, Asha Bhosle and Many other Indian Soap operas or Serials; all stars who all Maldivians were very familiar but not have seen in person and we enabled it. Not one of these shows were profitable in a monetary perspective but the immense rewards and joy from people are just priceless.
Islanders Group is mainly in to industrial (Timberstores, Grundfos water pumps), education (Billabong High International School, Kangaroo Kids International Preschool) and real estate with a small boutique hotel in Sri Lanka. 
We made a gradual shift into the education industry, realizing the difficulties I faced and many Maldivian face children were doing their schooling abroad, realizing how hard it must have been for parents and for others, having to be away from your family or husbands and wives taking shifts with so many social impacts on society, hence with the goal of getting quality education right here we started off with Billabong High and Kangaroo Kids, with many expansions to islands (Addu, Fuvahmulah and Thinadhoo) as well.
What are your day to day challenges when running your company?
The biggest daily challenge that I face when running the company is the difficulty in finding sufficient teachers and qualified staff for some specialist jobs. Human resource is the hardest to obtain and retain as well.
To counter this we do provide additional and continuous training and prospects for education. We train teachers and provide different opportunities for professional development. Needless to say that all our staff are more than capable to carry out any task assigned to them.
Another problem we face is space limitations, especially in the education and industrial sectors. For co-curricular activities in schools we require gyms, grounds and swimming pools for the school environment, and it is something very difficult to overcome. We place a great emphasis on co-curricular activities in our schools, though sometimes we are not able to offer the full benefit of it due to the limited space available. But for the past 8 years, we've maintained our success mainly because we have made the best use of the available space in providing an international education for our students.
Other challenges can be overcome easily and won't count as a challenge as I take pride and passion in doing things we love.
What are your biggest accomplishments?
My family being my biggest support; especially both my boys heading our team is a tremendous comfort and drive for my accomplishments now.
Another accomplishment is the level of work we do. We try to bring the same international standards and quality to Maldives. Being in a great team dedicated to provide quality services. In education, following an award winning international curriculum successfully in Maldives, to grow from 600 students to over 4000 students in Maldives.
Heading a team of over 600 very capable and dedicated staff in our group.
How has Islanders done things differently?
Even as a family business, we've always had a plan in every aspect of our work. With our focus to education, we have done things in different by introducing an international curriculum, by focusing to create global citizens and a more confident generation. We are well accepted to grow from 600 students to more than 4000 students in 8 years. 
Another thing perhaps is the opportunity we've been able to provide all those students and families going to Malaysia, Sri Lanka and India, to receive a quality international education while staying in the Maldives. Similarly, unlike any other industry in the Maldives, in the education industry we've been able to encourage people to stay in their islands thanks to their great trust in our schools. We've seen families encouraged to stay in their respective islands following the opening of our schools in Addu, Thinadhoo and Fuvahmulah for instance.
What are the future plans for the company?
We are committed to the service industry. We will continue with our commitment to provide education. Islanders Group is also taking a keen interest in health and welfare sector. Similarly our aspiration in the real estate lies in the belief in providing an exceptionally different and affordable standard of accommodation for Maldivians. 
The focus on the service industry, is as we believe, where we can make a difference in the lives of so many Maldivians.
I take pride and am encouraged to see my children are fully involved in Islanders Group. 
My advice to any young entrepreneur is to never give up. Be confident and don't be afraid to fail. Failure is a learning curve and not trying can be the biggest failure. We will have different talents and we should do the best of who we are. Be passionate about your self and your work.