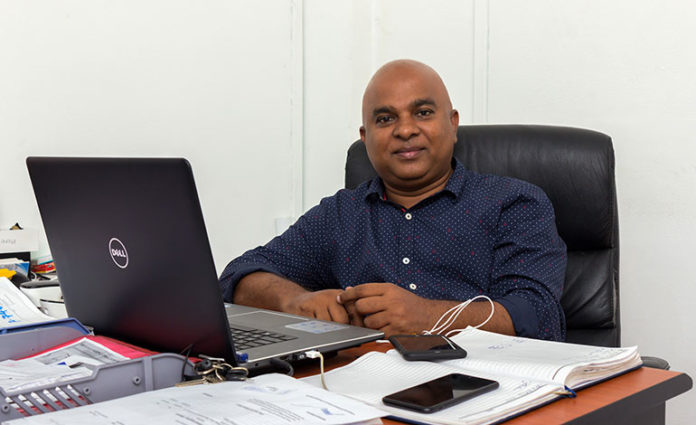 Mr Abdulla Sawad, the founder of one of the largest logistics companies in Maldives, Leo Trading, is a man who with just his wits, leadership skills and business oriented strategical thinking, beat the odds to bootstrap his company towards the roaring success it is today. From humble beginnings as a simple shop owner, he has expanded his business into a logistics giant with an arsenal of industrial machinery, heavy duty vehicles and over 150 employees. Mr Sawad has proven time and time again that in the end it comes down to hard work combined with dedication and perseverance to make a business profitable and successful. Corporate Maldives had the pleasure to sit down with Mr. Sawad for a chat and this is what he had to say.
How did you get started?
Leo Mart was where I got started. It was a small convenience store that sold various items that consumers would need in their daily lives. The investment was worth roughly around MVR61,000, if I recall correctly. The company was officially registered in July 2000 and I managed to open the store for business around November. Business was good and every day I strived to improve the quality of service. This venture provided me with valuable insights into how demand and supply worked. Later, around 2003 or 2004 I had grasped the concept of logistics and familiarized myself about the backend operations of the supply chain. This is what actually piqued my interest in logistics.
At the time there was no Government issued Gazette for announcements or requests to order goods. Instead they were posted on newspapers and magazines. I used to apply for bids that weren't too high, highest being no more than MVR50,000, to buy stationaries and furniture for private and Government offices. During 2004, once I was familiar with the trade, I began applying for bigger bids ranging from MVR100,000 to MVR200,000. Basically I was still doing the same thing, albeit on a larger scale. All the while, my little shop continued to do well.
The career-defining moment for me was one of such projects that I had bid on that I won. It was a project to provide water storage tanks to islands through the then Planning Ministry. During this project we had to deliver over 3000 tanks to 74 different islands. This was not a simple project and brought with it several major challenges that I had to overcome in order to make it a success. For one thing, we lacked the expertise and manpower. Even worse was the fact that no company in the country would help us with the bid security. Therefore, we had to rely on foreign help and I got it from an Indian company. We had no vehicles of our own and had to rent those and hire the manpower required. Tackling these and many other challenges was one of the biggest obstacles I had to overcome but in the end the project was a complete success. Even more important that the profit I made from the project was the experience I had gained.
My major breakthrough came during the aftermath of the 2004 Tsunami. The tsunami completely decimated many islands and nearly destroyed our entire economy. The Government had launched several major recovery operations all over the country. Full of confidence with my recently gained experience in such projects, I knew I had to be a part of this. However, there was a couple of problem. There were already several well-established logistics companies like Hunter Maldives, RKL, MTCC and various other companies operating in the country and I had to compete with them if I was going to get any of the projects. On paper, my company was still relatively small and inexperienced when compared to the other larger companies. To even the playing field, what I did was I personally approached the companies and organizations that were providing aid in the country and talked with them. Direct marketing, you could say. I gained their confidence and convinced them that my company could deliver results, same as or better than what my competitors could. Despite being at the bottom rungs of the ladder in terms of size and experience, my company won several bids and started doing our part to aid the relief effort. It was around this time that I decided to sell my little shop also. I sold it for MVR700,000. One of the biggest accomplishments of my life at the time, considering I had started the shop with a lowly MVR60,000. That was my start and we haven't looked back since.
What do you consider your biggest success since Leo Trading's inception?
Our biggest accomplishment so far… I think the answer to that is our fleet of vehicles and machinery. When we began, back in 2004, we had no vehicles of our own. That remained the case till as late as 2009. All our projects were completed using rentals. However, as the company began to grow, we slowly started acquiring our own vehicles and other equipment since it was such a big hassle and very costly to rent all the vehicles and machines we needed. I can honestly say that we now have the largest such fleet in the country. We have four landing crafts, eight barges, and more than a hundred heavy vehicles like excavators and cranes. No other company in Maldives can come close. This is impressive to me because we have achieved all this without taking a single loan from a bank. This is the result of meticulous advance planning. Also, our operations run the length of the country, from the northernmost island of Haa Alifu Hoarafushi to the southernmost island of Feydhoo. We have 22 bases of operations scattered throughout the country at the moment.
Another project that I am very happy and proud to have been part of is the establishment of the Tsunami Warning System in the country. It was a joint effort with many foreign companies and it was a chance to prove that my company could deliver delicate instruments with ease and confidence. I should also mention the SAARC summit project where we provided logistics for the entirety of the summit.
What were the biggest obstacles you've faced and how did you overcome them?
During the early days we had to hire vehicles, machinery and equipment from already established logistics companies and they'd quote us whatever price they felt like, no matter how ridiculous. They dictated all the terms on how they would charge us for the use, including what happened when and if one of the vehicles broke down and needed repair work. For instance, if we were to rent an excavator, we would be charged from the moment it leaves its storage or warehouse to the moment until it was returned, whether or not the machine was in operation during the entire time or not. Moreover, if the machine broke down without cause due to their poor maintenance standards, we had to pay for the repairs and we would still be charged even though no work had been done since the machine was undergoing repairs at the time.
Another obstacle we constantly face is recruiting skilled locals and finding local expertise. To fix this, we have started offering a lot of training opportunities to young locals. We bring in experts from abroad to teach courses on how to operate machines and develop other skills required for this industry. I personally teach many logistics classes and try to pass on the skills and know-how to the employees.
How has Leo revolutionized the logistics industry in the country?
The biggest change that we brought is the change in pricing policies for rentals. We stopped charging for transport time, up and down, and for the time spent setting up or fixing machinery if it breaks down. We only charge for the time when the machinery or equipment is utilized, a policy which all companies took up later on.
Another major change we brought about was the using of jumbo bags that can carry over 5 tons of cargo. Especially useful when transporting cement bags and gravel. Before we came along, they would stack bags of gravel and cement onto transport pallets or skids. It was a labor-intensive and time-consuming process. With our method we just empty out the bags of cement or gravel into one giant bag and transport it to site in one go. Saves time, money and is easier for our workers. This process has also been adopted by our competitors now.
Where do you think you'll be in a decade or so? What's next for Leo?
We would like to introduce facilities such as heavy duty cranes and provide them to neighboring countries. We would like to become a logistics hub where other countries can rent equipment from us. Going international is the dream. As for myself, I'm planning to retire. I'm slowly passing down responsibilities of the company over to my relatives. Plans for my retirement by mid 2020s is already in place. I'm looking to sit back and watch my family take my company to new heights. The company is very stable with a healthy growth so I don't have much worries about it now.
To the upcoming young and ambitious entrepreneurs, my advice is to not give up. There will always be fails and you could lose millions but don't let that hinder your spirit or your drive to succeed. Always be kind, be well-mannered when communicating with clients and customers while being true to your principles and maintaining an honest relationship with business associates and clients alike. Combined with the determination to succeed, you too can make a difference and create a legacy of your own.