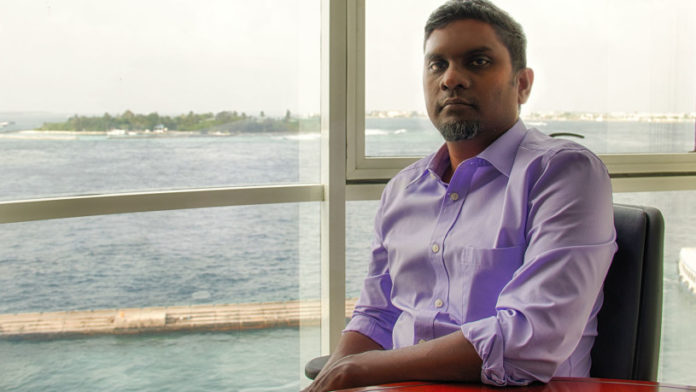 This interview was first published on Guesthouses Maldives Magazine (Edition 2015)
How did you get started?
I recall that the idea came to me during the last months of 2009, when the bill to allow guesthouses to be operated in inhabited islands of the Maldives was submitted to the People's Majlis. Maafushi is my native island and I had been visiting the island a lot during weekends those days while working in Maldives Monetary Authority. I was swimming near the beach area, a place I always frequent when I am in Maafushi, when I saw the house that was under construction at the corner of the beach and suddenly visualised what it would look like as a guesthouse. Right then and there I decided to get the house. I immediately found out who owned it and, luckily he was a relative, agreed to the rent, MVR 10,000 per month,  and signed the contract within a week.
The owner had originally planned to rent it out to nurses and teachers, since those were the usual tenants you would find in Maafushi back then. It was a huge risk and I knew that going in. After renting the house, I refurnished it completely, changed the exterior, installed air conditioners and connected the sewage pipes to the central sewerage system that had been installed by Red Crescent in the island. I managed to register the White Shell Beach Inn at the Ministry of Tourism in 2010. It wasn't just the first guesthouse in Maafushi, it was the first registered guesthouse in any inhabited island of the Maldives.
How was the response from friends and the other Maafushi residents initially?
I did discuss the venture with friends and others and almost everyone was skeptical it would actually work. The main obstacles, they felt, were that alcohol would not be allowed in the island and bikinis would be a problem. I'll have to say the initial reaction wasn't very positive. However, a childhood friend trusted in my vision and helped me invest in the project. The initial investment was MVR 300,000 but after five years the business is now valued at about MVR 6 or MVR 7 million. We had humble beginnings, started with just four rooms and minimal staff. We made a simple static website and listed it on Agoda and Booking.com since we just wanted to establish an online presence.
In hindsight, one of the most important steps we took was listing Maafushi as a destination on online searches, charts and maps. We marketed Maafushi as a tourist destination just like any other Maldivian resort. Even on Agoda and Booking.com Maafushi appears right under Maldives as a separate island (city), rather than under Kaafu Atoll in a separate sub-category. One and half years went by fairly uneventfully and we started a restaurant also. The only reason we managed to survive the first year was due to the restaurant and we invested heavily in it. It was a nice location near the beach and most of the customers were locals. We couldn't have sustained the business otherwise.
Keeping just four rooms full wasn't that difficult at the time, but we eventually talked to the neighbours who lived in the two-bedroom house next door, negotiated a deal and got that house too. We converted the two rooms it had into guest rooms and the empty area into a larger restaurant and kitchen area. Later, during the second year, we rented the third house located next to it too. The whole White Shell Beach Inn area is actually three houses combined, a total of 10 rooms. I think it wasn't until 2011 that other guesthouses started popping up and although there are larger and more luxurious guesthouses in Maafushi now, I think if you compare the profit per room it is still better to have single storey, 'cottage' style guest houses, since we can keep the running costs lower than the other, bigger guesthouses.
Also, from the start, my idea was to make this a community effort so everyone in Maafushi could share in the profits and achieve inclusive development. As such, even from the very beginning, we outsourced the laundry service to another local household. This provided them with a good, steady income just by doing the laundry for our guesthouse. Similarly, we outsourced the speed boat service to another local party. I say "speed boat" but when he started out it was just a small, cramped dinghy but we used that to bring tourists here from the Airport anyway. Now, the man who started out with a tiny, dirty dinghy, he now owns about six speed boats. What I am saying is that we could have bought a small dinghy ourselves back then, but that wasn't the plan. We wanted everyone to contribute to the industry and become stakeholders in it so they could all reap the benefits. Even the furniture and furnishings in the guesthouse are all locally designed and crafted. Even the staff, wherever possible, we've employed locals. The only expatriates we've hired are for those jobs that we were unable to find suitable local talent. We focused a lot on that system and everyone who followed were smart enough to adopt it, and I think that's one of the biggest reasons Maafushi has become such a huge success.
Did you ever have plans to work in the tourism industry?
I didn't really plan to manage a guesthouse specifically. I'm an economist by profession and I've always been interested in the tourism industry as it is the main industry in the Maldives. My thinking has always been very tourism-oriented so if I was to start a business I always knew it would be tourism related somehow. That's how it is but I would not say that I ever had any plans to become a resort or guesthouse owner until the day when I actually went ahead and rented a house with the intention of turning it into a guesthouse.
How do you think Maafushi has changed over the last few years?
I think most of the guesthouse owners in Maafushi, even now to some extent, are just concentrating on establishing and growing their businesses and so Maafushi is changing very rapidly. At first everyone in Maafushi concentrated on improving room quality and increasing room capacity as there were only a few rooms available back then so it wasn't possible to bring a big Chinese group to stay here. Now there are 34 guesthouses, that's around 300 rooms, so now gradually the focus is shifting to improving other facilities, like the restaurant services, excursions and water sports. Other changes include the mentality and attitude of Maafushi residents towards the guesthouse industry. Like in every community, we too had some people who had very conservative outlooks and concerns towards hosting tourism related activities in the island. For example, back when tourists first arrived in Maafushi there were those who would get really angry if they saw someone wearing even a slightly revealing dress — not even a bikini — walking about in the island. They would harass us a lot and it was a huge annoyance to deal with them every day. Now, that has changed. I think it's because the people of Maafushi have finally accepted it and changed their frame of mind. I like to believe that they've accepted that tourists aren't visiting their island now, but are now living in a tourist resort called Maafushi! They've come to realise how important the industry is and how beneficial it is for the economy. Out of the 34 guesthouses, only few guesthouses belong to people who aren't from Maafushi. So everybody has an interest in protecting this industry.
Do you think the guesthouse industry is a threat to the resort industry?
I don't think we are in direct competition with resorts. I feel that the guesthouse industry actually complements the resort industry. Many of the guests who arrive here usually come from other resorts. They spend a few days at a resort, a few days with us and then heads off to another resort or sometimes Hulhumale' or a safari on a liveaboard. The guesthouse industry is now a vital part of the whole Maldivian tourism product. Guests get more options to explore and experience. They get the best of everything. If you just stay at a resort or a guesthouse you don't get to experience everything the country has to offer as a tourist destination. Also, Maafushi is appealing to tourists because we have several guesthouses that offer higher quality accommodation than what you can get at some lower-end resorts, but at a much more affordable price. A lot of the amenities and services are also available here. There's Free Wi-Fi with high-speed Internet access, HDTV, swimming pools and many more. Plus you can enjoy all the excursions available at resorts and water sports such as jetski, watersking, banana riding and a whole lot of other things… and the rooms are available for just $60 or so! That's unbelievably attractive to tourists.
What do you think is the biggest challenge for the guesthouse industry?
Personally, from my experience here at Maafushi, I think the biggest challenge is having to manage and operate a tourism product in an inhabited island, and managing all those issues we face in the local community every day. You have to deal with a lot of unusual obstacles that you wouldn't face in the average resort due to that. Not everyone is ready to believe that the long-term sustainability of this business depends on many factors, that it is very vulnerable right now. There have already been some minor scuffles between guesthouses and even blows exchanged. This is very sad, because such incidents will have far-reaching consequences, maybe even beyond Maafushi. I had to personally intervene and settle many problems. The reason I have to do this is because so far most seems to listen and respect what I have to say and share the vision I have for Maafushi.
The entire future of this multi-million dollar business depends on what we do here right now, so we have to protect it. For instance, the issue of illegal drugs, alcohol, and violence can be a problem in Maafushi just like in any inhabited island in the country. We all have to be extra cautious here in Maafushi. I have personally waited at the jetty to search the bags of tourists returning to Maafushi after spending New Year at nearby resorts to ensure they did not bring back any alcohol with them. That is how far you have to go to protect your investments and ensure the business remains sustainable.
However, as the number of guest houses grow, and as new investors from outside Maafushi starts operations, not all will share our vision for the island, and not all will have the kind of love we have for our island. Some of them might not see a problem in secretly selling alcohol in their guesthouses. Like with everything, this industry too has the chance of attracting seedier elements. If we don't carefully monitor and nurture this industry, there's a possibility it could turn into something else entirely.  Not everyone shares my views on this, and my vision to promote a more cultural tourism isn't exactly the way Maafushi is heading. It is evolving faster and the changes are completely unpredictable, but like I said before, it can still be sustainable if we keep our eyes open and don't allow the negative elements such as alcohol and sex tourism to take a foothold here.
When we first started, everybody felt operating a guesthouse would be impossible without alcohol, but now, after the events of the last 'New Year', we have been able to prove everybody wrong. We organised a huge party at the beach for new year, complete with a fireworks show, dinner, barbecue, music and dancing. We were able to attract over 600 guests for the event and it was packed. Tourists came from everywhere and they ate, danced, had fun and celebrated the new year, with no alcohol. So I am very convinced now that local island tourism is here to stay – even without alcohol. The tourists we get aren't necessarily looking to drink. They are more interested in the excursions and other activities available here. You can't take part and enjoy all the fun activities when you're drunk anyway. Besides, they always have the option of going to nearby resorts if they feel like drinking.
How much support have you received from the Government?
We actually have very good relations with the Government, most of the guesthouse owners here do. However, I can't really say that guesthouse industry in Maafushi has been developed with Government's direct involvement or assistance. Don't get me wrong, they aren't against us either. Even when we meet government officials every now and then they do make a point of mentioning they aren't against us. We show them the numbers and they see the results with their own eyes. Plus the revenue we generate is clearly visible in their own reports. I don't think anybody has any reason to feel threatened by us. There can be occasional instances where politicians try to take credit for the success of Maafushi but, in reality, all the credit for the success of Maafushi goes to the residents and entrepreneurs of Maafushi.