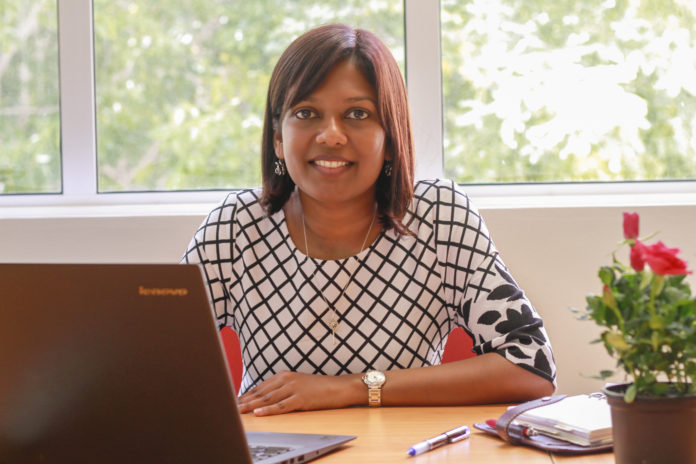 Aminath Salah, the CEO of Voyages Maldives Pvt Ltd, is a perfect role model for Maldivian women of today. At a really young age, she has broken gender stereotypes to find success in an industry dominated by men and proven that it all comes down to effort, passion and dedication if you are to succeed in any field. Corporate Maldives had the pleasure of having a chat with her and got the chance to pick the mind of one of the leading businesswomen in the country.
How did the company come about and how did you get involved in it?
The idea was actually generated when two of our directors, Salah Shihab, our Managing Director, and Mohamed Shafeeg, our Finance Director, were studying together in Australia during the 70s. Upon their return, along with some of their like minded family and friends, they started Voyages Maldives. The company officially came into existence in the early 80s.
The directors were inspired and encouraged by the Australian Adventure tour company, World Expedition, to start Liveaboard safaris in Maldives as there was no one specializing in this type of service in the country at that time. I am happy to note that even after 35 years we continue to work with World Expedition.
I got involved in the business very early in my life. My interest was piqued right at home since my father, Salah Shihab, is one of the founders and MD of Voyages. I grew up exposed to his work and as I grew older I wanted to know more. I worked as an intern at the company during my school holidays since I was 16, working in all the departments of both Voyages and its sister company, Seagull Group. Eager to learn, I experienced everything the various departments had to offer. I worked as a receptionist, did ticketing and accounting, handled reservations, and even worked in Human Resources and the Sales departments, not to mention Secretary to the Directors of Seagull Group. By then I knew this was definitely what I wanted to do. After finishing my Degree I joined Voyages as a Marketing Executive, then after working for 3 years left to do my Masters and then joined as the Marketing Manager. Eventually, I became the CEO of Voyages Maldives.
What do you consider your biggest challenges?
There are always several challenges that we face at any given time but the one that has been a consistent thorn in our side is human resources, or to be more specific, finding qualified personnel. For example, let's just take one from one of our key areas: boat captains. We were blessed by having some very good talent with us for a long time but it has become increasingly difficult now since due to our constant growth we need to develop and build a younger leadership. We are not just looking for someone with the needed license, but someone with experience, knowledge and the kind of person ready to adopt the "Voyages culture".
As you know, our core business is service and we are heavily dependent on our team. We are working continuously to find the right team members and work on various tactics to improve their skills and help them grow, but this is a continuous cycle. We have learnt over the years that what works best is if we work on bringing out the best in our staff by matching the staff to their natural abilities and skillset, and then provide them with the training as well as a pleasant and healthy environment to work in. Through the years we have managed to create a highly dedicated and responsible team and we let them get on with accomplishing their tasks. We believe in an environment where staff is empowered and held accountable for the work they do. This gives them a greater feeling of responsibility and they take full pride in the work they do. Voyages has a highly experienced team of HOD's who have matured within the company, hence they are instilled with the "Voyages culture", which is in turn passed on to their teams to continue this success going.
Another challenge is, I believe, something that all the businesses are currently facing: the global slowdown. There is nothing that we as a business based in Maldives can do to rectify this issue, it is bigger than us. But we are in a position to adjust our strategies to help our partners during this difficult times. At times like this we believe that it is not about making the most, but working together with our partners to retain our business at a level comfortable to all. We are always looking at the bigger picture. Voyages have always had a culture of looking at operations long term rather than short term gains, and this has proven to be a huge success for us and we hope will continue to do so during such difficult times.
What do you consider your biggest achievement?
Our biggest achievement is the steady growth we have experienced over the years in such a challenging and fluctuating market. We have to be present and be there for our partners and customers 24/7 and have done this for the past 36 years. That is something we are immensely proud of. Along with this, the fact that we have retained all of our major partners since the inception of our company and having managed this whilst creating bonds with new partners throughout the years is a huge achievement for our company.
Finally, holding on to our reputation for this past 36 years, as a trusted, business-worthy company. This is not something that happened over night, we have come to this level consciously with a lot of consistent work by a lot of staff over many years. And it is never-ending work.
What advice would you give a young person trying to succeed in this industry?
Break gender stereotypes and excel at your own pace! Take the gender out of it and prove your worth. This goes to all young girls and boys who are dreaming of a career in this great industry of ours. Real change must begin by changing attitudes within ourselves. Often, it all boils down to confidence. What holds women back is not competence, which we usually have; but confidence, which we often lack. We tend to hold ourselves to an impossible standard of perfection. This needs to change. By changing the mindset and resetting the narrative. As an employer we are looking for people who can help take our business to the next level, not the gender, so we should all aspire to prove that, and grow within to reach new heights.
Where do you see yourself and your company a few years down the line?
We will continue our safari operations and continue to hold the top spot in the market. We will definitely keep on learning what our customers need and adjust accordingly and innovate and renew our boats to keep up with the demand and adjust to changes and trends in the market. We have already laid the foundations for newer operations and hope to branch out into the resort industry soon as well. Since I became CEO two years ago, a lot of my time has been spent streamlining and growing the existing business. I am looking forward to continue to do that while taking on new ventures such as expanding our portfolio and helping the company reach its full potential in this ever expanding tourism and travel industry. We have only scratched the surface, only just getting ourselves started. In the words of one my Directors and one of my mentors, Hussain Afeef, "keep dreaming".