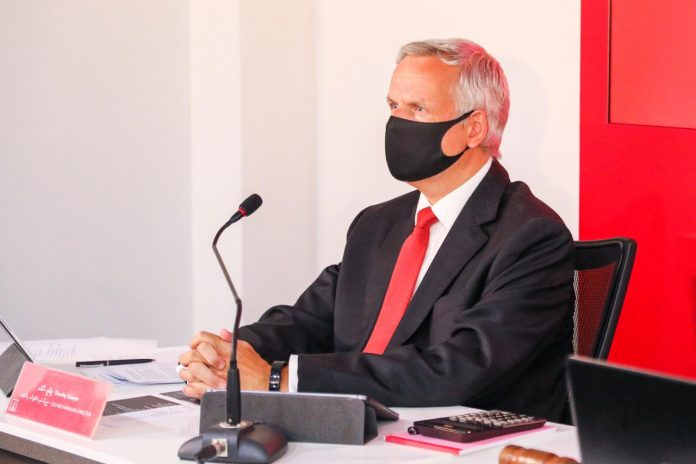 Bank of Maldives CEO and Managing Director Tim Sawyer highlighted 2019's strong financial performance of the Bank and its swift response to the pandemic during his update to shareholders at today's virtual Annual General Meeting.
Speaking on the impact of COVID-19, Tim reassured shareholders that the Bank will remain alongside Maldivians through these extraordinary and challenging times. "While we saw strong results last year, today we are faced with the impact of the COVID-19 pandemic. This unforeseen level of business interruption has meant a significant loss in income and the positive momentum of 2019 has not continued." He stated that the Bank's profitability over the past years and its strong capital position had cushioned the impact of COVID to some extent.
Reflecting on the previous year's performance, Tim noted that it "was another strong year for the Bank with an Operating Profit of MVR 1.7 billion, up 9% compared to 2018. Profit After Tax, as expected, was down by 5% because of higher provision charges. Total assets grew by MVR 3.3 billion, up 14% and we maintained strong capital position with a Capital Adequacy Ratio of over 40%, well above regulatory requirements. The success of the year is also reflected in the number of new customers we welcomed to the Bank. We are proud to report more than 15,000 new customers started banking with us in 2019."
To support businesses, BML Business Centres were opened last year in Addu, Male' and Hulhumale' to provide advisory services and solutions for small local businesses. Last year also saw the launch of the first Business Debit card in the country through Mastercard; and positive changes were brought to BML Payment Gateway service fees to encourage local e-commerce platforms. In 2019, the Bank further scaled up its Islamic banking arm with the opening of the new BML Islamic headquarters in Male'. With new products in its portfolio, BML Islamic saw significant growth in its customer base with almost double the number of customers compared to the previous year.
2019 saw BML invest heavily on technology to improve service delivery. The BML Merchant Portal and the mobile Point-of-Sale solutions were introduced to allow merchants to transform smartphones to accept electronic contactless payments. QR code payments were launched and with the upgrade of the POS network, payment terminals began to accept all forms of contactless payments.
The Bank continued to support charitable, educational, sports and environmental causes with 140 CSR initiatives implemented across the country last year. These include the Aharenge Bank Community Fund, equipped schools with special learning aids and donating 60 motorized wheelchairs to enhance the quality of life for people living with physical disabilities.
On the Bank's swift response to COVID-19, Tim commented "We have taken a number of proactive measures over the past few months to manage the credit risk due to the pandemic and to support our customers. Dollar liquidity however, continues to be a key challenge and we are working with international lending agencies to secure funding to support our customers. Through the Ministry of Finance, we obtained a EUR 20 million facility equivalent in USD from the European Investment Bank (EIB). More recently, the International Finance Corporation (IFC) announced a loan of up to $50 million for the Bank. Both facilities will provide much needed USD working capital to businesses impacted by the pandemic, especially resorts and SMEs. Over the coming weeks, we will have difficult choices to make to sustain dollar liquidity and ensure what is available is prioritized to the right areas whether it is to meet essential import requirements or supporting priority TTs." This closely echoes MMA's measures, published in its recent quarterly Bulletin, to cater for essential imports as a means of addressing the disruption in foreign exchange.
Ending his address at the AGM, Tim expressed his utmost appreciation to the Bank's staff. "Thank you for your hard work throughout the past year – you have much to be proud of. This year has proven the commitment, dedication and positive attitude of a remarkable team who has shown nothing but resilience during this time of change. We are privileged to serve as Dhivehinge Bank and even with the challenges ahead, we will continue to explore more opportunities to support our customers. Bank of Maldives will remain standing alongside the Maldivian people no matter what."
For more information please contact:
Mohamed Saeed
Public Relations Department
Phone: 3015315