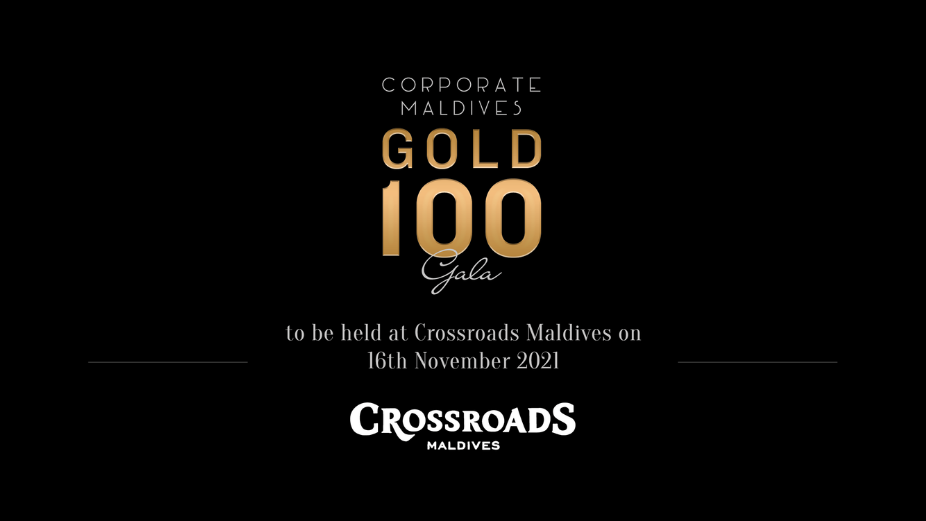 The 5th edition of Corporate Maldives "GOLD 100 GALA" will be held at CROSSROADS Maldives on 16th November 2021. At the GALA function, "GOLD 100" companies will be presented with an award & the "GOLD 100" magazine will be unveiled.
"GOLD 100 GALA" is an invitation-only networking event bringing together top executives of Maldivian business community and also assisting those in search of new business opportunities. This event will be participated by chairmen, managing directors, CEOs & key decision makers within the business community of Maldives.
"GOLD 100" is a list of leading 100 business entities in the Maldives, published by Corporate Maldives every year. Through a transparent and unbiased selection criterion, "GOLD 100" is devised as a selection of the leading business entities, rather than a ranking. As such, the list would be published in alphabetical order.
Corporate Maldives will also award the Lifetime Achievement Award to recognize visionary business leaders who have made significant contributions to the Maldivian business community as well as the overall community in general. Every year, Corporate Maldives will announce two award recipients whose businesses and philanthropic activities have enhanced the overall development of the Maldivian business community. The recipient of this year's Lifetime Achievement Award will be announced during the Corporate Maldives GOLD 100 GALA at CROSSROADS Maldives.
CROSSROADS Maldives opened its doors to guests in September 2019, featuring two lifestyle resorts, Hard Rock Hotel Maldives and SAii Lagoon Maldives – Curio Collection by Hilton®, both of which have direct access to extensive facilities at The Marina @ CROSSROADS, an 800-metre lifestyle area and beach walk featuring retail, entertainment and dining outlets.
The facilities include a 30-berth quay, complete with world-class⁠ amenities and exclusive concierge services⁠, the Junior Beach Club and Camp, the CROSSROADS Event Hall, Maldives Discovery Centre and Marine Discovery Centre – the project's environmental and educational hub.