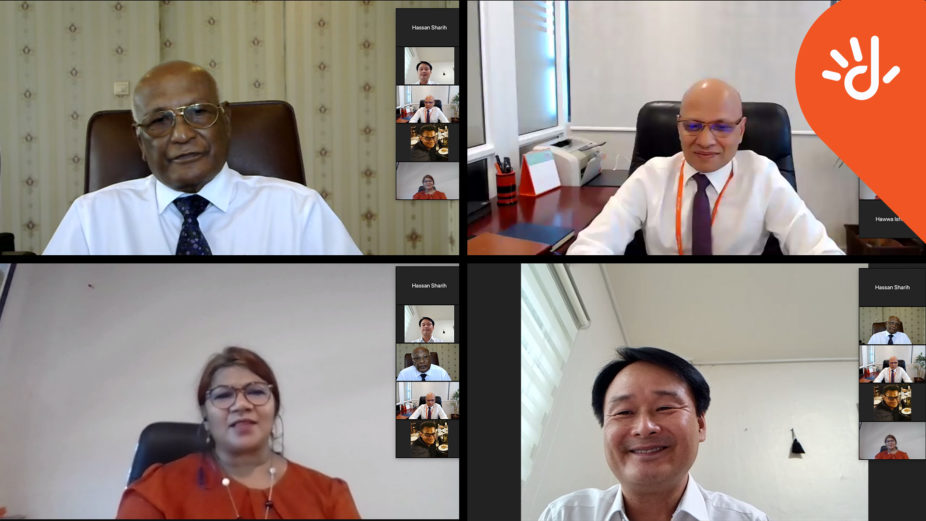 Dhiraagu together with Samsung donated 60 Galaxy Tabs yesterday to further enhance digitisation efforts of pandemic management and to support the health sector in the Maldives. This special contribution was made to the Ministry of Health and Addu Equatorial Hospital. 
A special virtual ceremony was held today together with Minister of Health, Mr. Ahmed Naseem, CEO & MD  of Dhiraagu, Mr. Ismail Rasheed, Managing Director Samsung Sri Lanka, Mr. Kevin SungSu YOU to handover the devices to the Ministry of Health. The objective of donating these devices is to support the health sector  for relief efforts by the Ministry for a vaccination programme in regional hospitals and to support the increased need for digitization in pandemic management.  
"On behalf of the government, I would like to take this opportunity to offer my sincere gratitude to Dhiraagu and Samsung for your support, generosity and personal commitment to making a difference in these unprecedented and challenging times" stated Mr. Ahmed Naseem, Minister of Health.  
Speaking at the event Dhiraagu CEO and Managing Director Mr. Ismail Rasheed stated "I would like to thank the Minister, the health authorities and front-line workers for their tremendous efforts to keep us safe at the height of this health crisis. We are hopeful that these devices will further support the government's digitization  efforts in pandemic management." 
Dhiraagu has continued to dedicate resources to support the community, responded to the government and authorities in their emergency response efforts in quarantine facilities, flu clinics, vaccination centres and  NGOs to support outreach programmes amid the pandemic. 
During this virtual event Managing Director Samsung Sri Lanka, Mr. Kevin SungSu YOU also gave his remarks and stated "We are humbled to collaborate with Dhiraagu and have had the opportunity to support the government of Maldives who is working tirelessly to uplift the nation during this difficult time. We hope these devices will bring a positive impact for the pandemic management efforts by the authorities". 
Dhiraagu remains committed to serving the community beyond connectivity and continue to introduce smart digital platforms and solutions to help connect and optimize operations in this digital age.