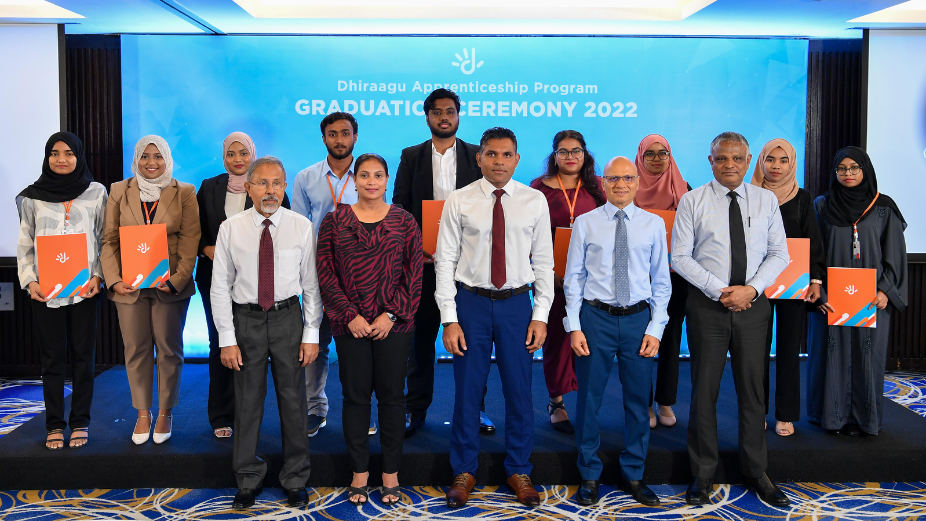 This year's graduation ceremony of the Dhiraagu Apprenticeship Programme was held yesterday to honour the graduates from the programme. 15 Apprentices were awarded certificates upon the successful completion of the programme this year. 
The ceremony was graced by the Vice President of the Maldives, H.E. Faisal Naseem as the Chief Guest of the ceremony. Special Guests of the ceremony also included the Minister of Education, Dr. Aishath Ali, the Minister of Higher Education, Dr. Ibrahim Hassan and the Special Advisor on Social Policy of the President's Office, Dr. Musthafa Luthfy.
Equipping youth with skills, and inspiring and motivating young minds is a key focus of Dhiraagu's CSR programme. As such,  Dhiraagu Apprenticeship Programme – the first corporate apprenticeship program introduced in the Maldives – is the flagship CSR initiative of the company, which focuses on developing employability skills in Maldivian youth. The company has been conducting the program since 2009 and over a total of 247 young people have enrolled in the program as of today. Many past graduates of Dhiraagu Apprenticeship Programme have continued to establish successful careers in Dhiraagu and other organizations across Maldives.  
During the ceremony, the company also welcomed the 13th Batch of Dhiraagu Apprenticeship Program where 15  Apprentices enrolled in this year's intake. Through a structured training programme, soft skills development training, and with the opportunity to work in multiple core business areas of Dhiraagu, the program helps to provide the apprentices a  key pathway towards a successful career. Apprentices can work in Male' and across various Dhiraagu Regional Operations Centers across the nation. 
Speaking at the ceremony, Chief Guest Vice President of Maldives H.E., Faisal Naseem congratulated the graduates of the Dhiraagu Apprenticeship Program 2022. He expressed his appreciation and thanked Dhiraagu for introducing the apprenticeship program to the Maldives which has inspired other corporates to follow the same model and develop skilled workforce. He further highlighted the importance of developing talents that are needed for the nation's resilience and development. 
Dhiraagu CEO & MD Mr. Ismail Rasheed also congratulated the graduates and conveyed his best wishes to the new batch of apprentices. He further expressed his delight to see many past graduates of the programme establish successful careers in Dhiraagu and across Maldives, signifying how the programme continues to be a stepping stone to their career development and success. He also particularly noted how the company gives special priority to developing young people. 
Dhiraagu continues to enrich the lives of the youth and develop future leaders by giving them the opportunity to develop their skills through intense on-site training under the guidance of a highly qualified management team.