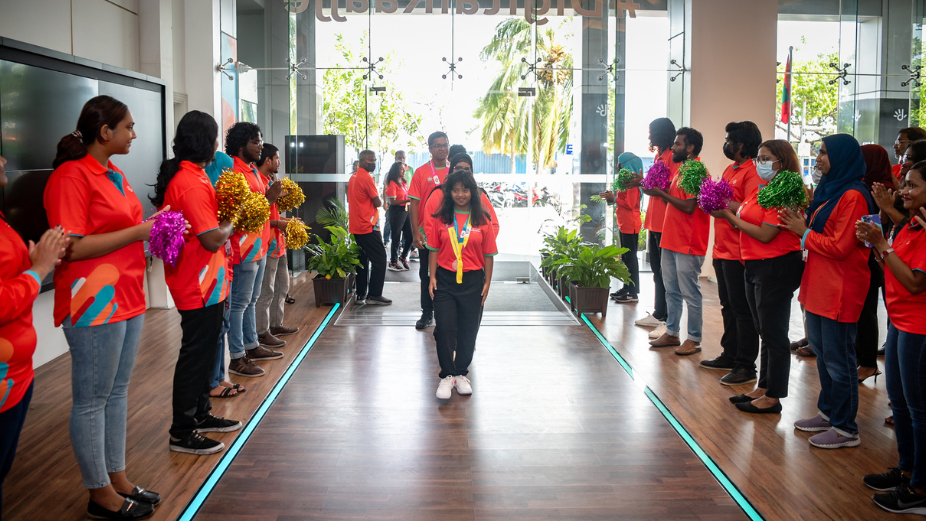 Dhiraagu celebrated Team Maldives' outstanding achievements at Special Olympic World Games Berlin 2023, recognizing their achievements in a special ceremony held at the Dhiraagu Head Office. The company welcomed the delegation along with the athletes' parents.
At this year's World Games, six athletes from the Maldives participates in athletics and badminton, and won two gold medals and one bronze medal:
• Aishath Maniya Adam – Gold Medal in Badminton (Division I)
• Aishath Laika Hussain – Gold Medal in 100m Sprint (Level B – Division F07)
• Zaana Ali Shareef – Bronze Medal in 200m Sprint (Level C – Division F03) 
The company awarded prizes to all six athletes who took part in the World Games 2023. Free Dhiraagu Fibre 100m connection for 1 year was awarded to the medal winners while the rest of the team were awarded sports gift vouchers.
Speaking at the event, Dhiraagu Chief Commercial Officer, Ali Riyaz congratulated the athletes for their outstanding achievements at the Special Olympics World Games Berlin 2023. "We are extremely proud of the team and for your efforts in bringing this great accomplishment to the nation, and we look forward to seeing you continue to grow and achieve great things in the future as well," stated Ali Riyaz.
Dhiraagu remains committed to providing programme-based assistance and initiatives in the area of supporting children, empowering young people, and inclusive communities.