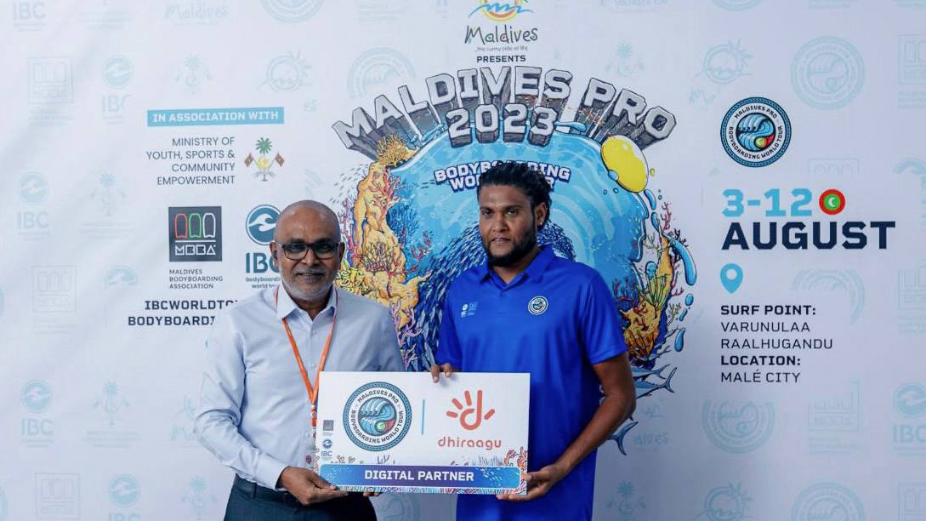 Dhiraagu has signed as the Digital Partner for the Visit Maldives Pro 2023 – IBC Bodyboarding World Tour organised by the International Bodyboarding Corporation (IBC) and the Maldives Bodyboarding Association (MBBA).
Visit Maldives Pro 2023 is the second edition of the Maldives Pro series in the IBC world tour, which was rated as the best event in the 2022 World Tour. This year's event is set to be the biggest bodyboarding event in the Asian continent with twice as many athletes participating, including well-known world-class bodyboarders as well. The event will take place from 3-12 August 2023 at the Varunulaa Raalhugandu, Male'.
"We are delighted to come aboard as the Digital Partner of the Visit Maldives Pro 2023 IBC Bodyboarding World Tour and support this event once again. We are excited to see the rapid rise of bodyboarding in the Maldives and see our national athletes shine internationally and in on our own home break," stated Masood Ali, Director, Customer Services & Regional Operations at Dhiraagu.
"We would like to thank Dhiraagu for their continuous support in bringing this acclaimed international event to the Maldives for the second time – even bigger and better this time.
This year's event in the Maldives is crucial to the rankings of the tour, bringing even more skilled athletes from all over the world to our waters, further cementing our place as a bodyboarding destination," stated MBBA President, Abdulla Areef.