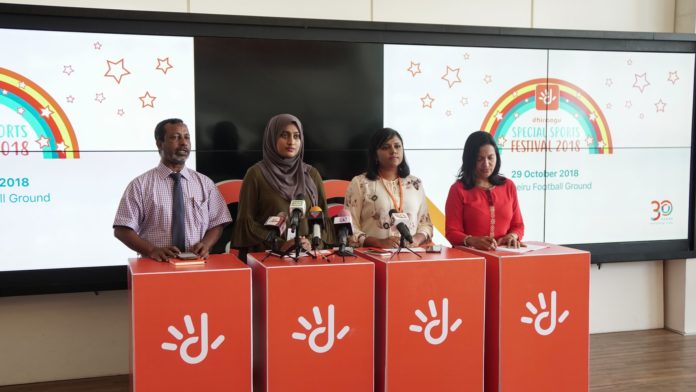 Dhiraagu Special Sports Festival 2018 – The only sports festival for children with disabilities in the Maldives is scheduled to be held at 29 October 2018 at Henveyru Grounds.
This is the 8 consecutive year that Dhiraagu Special Sports Festival is going to be held. The festival was inaugurated in 2011. 
The event is an initiative by Dhiraagu, as part of the company's Corporate Social Responsibility program. Dhiraagu Special Sports Festival is planned as an annual event with a focus on providing opportunities for children with disabilities in various institutions to participate in sports activities. 

Dhiraagu Special Sports Festival 2018 will embrace a variety of fun games and sport activities including fun relays designed for children including ball rolling, obstacle race, tunnel race and baton relay. This year's Special Sports Festival will feature "Bochia" which is a sport played in paralympics, specially designed for kids with CP. 
The festival has proved effective in instilling self confidence among the participants, and has showed that children with disabilities can take part in sports like other children. 
The festival will create a platform for further collaboration among institutions and help to advocate for people in need of special care. 4 NGOs will take part in this year's festival, along with 11 schools. Participating NGOs include Maldives Association for Physically Disabled, Beautiful Eyes Down Syndrome Association, Care Society and Maldives Autism Association. 
Participating schools include Ameer Ahmed School, Imaaduddin School, Rehendhi School, Muhyiddin School, Ghaazee Schol, Hiriya School, Billabong High International, Kangaroo Kids, Thaajuddeen School, Iskandhar School and Aminiyya School.